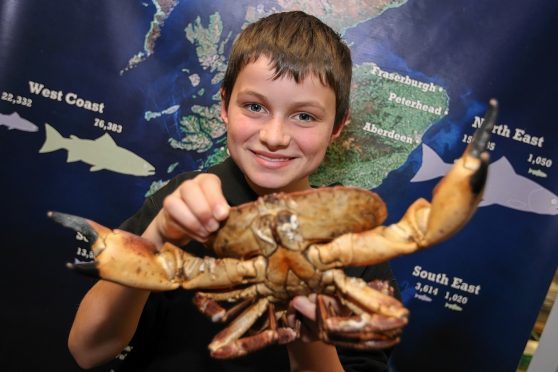 Hundreds of primary and secondary pupils in the Highlands are taking part in one of the biggest Seafood in Schools events to date.
The Scotland-wide initiative to get more youngsters eating fish and other seafood – helping the industry as well as their health – arrived at Millburn Academy in Inverness yesterday.
By the end of today, more than 400 pupils from the academy as well as the Crown, Daviot, Drakies, Inshes, Milton of Leys, Raigmore and Strathdearn primary schools will have participated in workshops teaching them where seafood comes from, how it gets to their plates and why eating seafood is an important part of a healthy diet.
They are also being given the chance to see and handle a variety of fresh and live species, including crab, lobster, langoustine, cod, haddock, monkfish, squid and more.
Parents, grandparents, siblings and guardians were invited along to a special session for friends and family last night.
Catriona Frankitti from the Fish for Health project is teaching pupils about the benefits of exercise and a diet high in Omega 3, while local suppliers helping out with the Seafood Scotland-organised event include Highland Smoked Salmon, Wester Ross Salmon, Fishbox and fishmonger Malcolm Fraser.
Highland chef Alan Frost cooked up some simple dishes using Scottish mackerel and haddock.
Millburn Academy home economics teacher Rita Karikas said: "Pupils have been anticipating the event for some time.
"These workshops will, I am sure, encourage them to include more seafood in their diet and also to consider the seafood industry as a career opportunity."