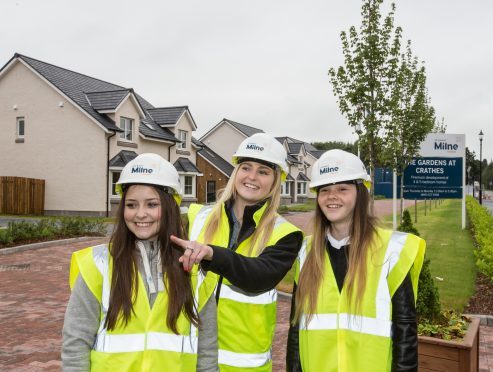 Female apprentices are proving there's no such thing as jobs "just for boys", according to a pioneering construction industry worker.
Joiner's daughter Abbie Duthie has made rapid strides since being taken on by developer Stewart Milne Group four years ago.
And she is delighted that an increasing number of young girls are donning their hard hats and smashing up historic preconceptions.
During her apprenticeship, Ms Duthie secured an HND in quantity surveying at Inverness College while learning the ropes, both on site and in the office.
Now, as a trainee, she deals regularly with clients, and is continuing her professional studies by doing a three-year degree through the Open University.
She urged other girls not to rule out construction as a career, by saying: "There's no such thing as a job that's just for boys or just for girls.
"Girls are quite capable of doing just as good a job as any male can – or better. It comes down to how they go about it, not what sex they are.
"A lot of girls think it might be quite a tough environment to work in and that they won't get treated the same.
"But it is not like that at all. Everyone is really friendly and welcoming.
"They treat you exactly as they do the male apprentices. You might get given the more simple jobs, but it's not because you are a girl."
She added that studying while working was ideal for her.
As she explained: "I do find it much easier that way, rather than just sitting in a room staring at a computer. It's much easier when you are seeing it done in the workplace and are able to go out and see the project you've been working on being completed".
Stuart Milne Group has 41 apprentices on its books – around a quarter of the workforce, all of whom are mentored by specially-trained senior colleagues.
They include bricklayers, joiners, electricians, plumbers, roughcasters, painters and maintenance technicians.
Mr Milne, who began his career as an electrician, said many of the firm's directors had taken a similar route.
He added: "We value and take pride in our tradesmen and women, offering them real career progression prospects, excellent bespoke training, the best health and safety standards and an attractive, flexible benefits package."