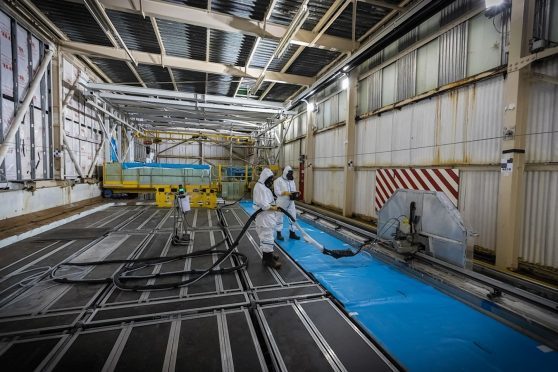 Work on cutting up part of the nuclear reactor infrastructure at Dounreay in Caithness got under way yesterday as strike action threatened to disrupt decommissioning of the site.
A remotely operated saw was used to make the first cut needed for separating the concrete liner of a fuel storage "pond" from the outer structure.
The next step is to cut the wall into blocks that will be wrapped and transported to the site's waste processing and disposal facilities.
Trials of the technique and operator training were previously carried out at test facilities at T3UK, a division of JGC Engineering and Technical Services, in Janetstown, and Bower.
Project manager Suzanne Griffiths said: "The pond work is very challenging but, after carrying out off-site trials, we have trained the team in the method of working remotely, which minimises (radiation) dose uptake.
"We are now progressing to remove one of DFR's (Dounreay Fast Reactor's) biggest radiological hazards."
The move came as union bosses warned of industrial unrest at Dounreay in a dispute over pay.
A ballot of GMB, Prospect and Unite members delivered an "overwhelming" rejection of a 1% pay increase, the unions said.
Dounreay Site Restoration Limited (DSRL), the company which employs most of the staff working at the former nuclear plant, said the pay offer was in line with increases across the industry.
But the unions said workers should benefit from increased profits margins, with DSRL parent the Cavendish Dounreay Partnership having grown its profits to more than £9million last year.
Unite regional officer Ian Ewing said: "Our members at Dounreay have worked very hard to move the decommissioning project forward, yet all they have seen are attacks on their pensions, conditions and now their pay; it is simply unacceptable."
Unions claim the impact of suppressing wages for the hundreds of staff employed by DSRL will have a knock-on effect on businesses across Caithness and Sutherland as workers will have less money to spend.
A spokeswoman for DSRL said: "The pay offer that DSRL has made is comparable to recent nuclear decommissioning industry pay increases and is above inflation.
"We remain committed to engaging with the trade unions and staff, but due to the sensitive nature of these negotiations we are unable to comment further."