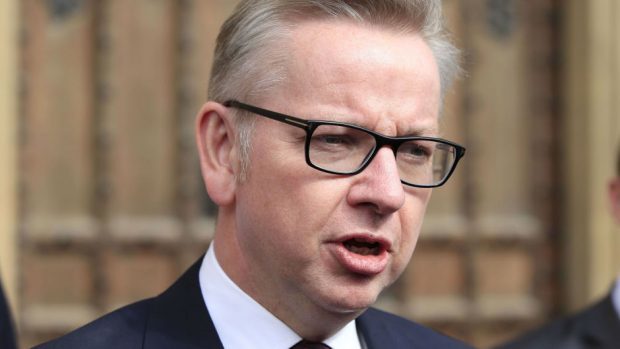 New Environment Secretary Michael Gove has ruled out the Scottish Government having a direct role in the Brexit negotiations.
The Tory frontbencher rejected the idea as a non-starter despite growing pressure from the SNP for the Holyrood administration to have a seat at the table.
Pressed on whether the request could be accommodated on a visit to Peterhead, Aberdeen-raised Mr Gove said: "It can't and doesn't work that way."
The prominent Leave campaigner added: "The negotiations have to be controlled by the UK Government. It is working for the interests of the whole UK."
He also highlighted the trip as part of his role to "spend as much time as possible listening to Scottish voters".
But SNP Westminster leader Ian Blackford said the comments showed a lack of respect and urged the minister to "think again".
Theresa May confirmed this week the UK Government's key repeal bill – to convert EU law into UK law – could require a legislative consent motion at Holyrood.
This is the mechanism by which a devolved body grants permission to the UK Parliament to pass a law in a devolved area.
It is not a veto as the Scottish Parliament can be overruled by Westminster.
But failure to obtain the backing of MSPs would set up a potentially disruptive constitutional clash and the SNP has indicated it could demand a seat at the Brexit negotiations as its price for ensuring smooth passage.
Ross, Skye and Lochaber MP Mr Blackford confirmed yesterday the party is seeking a "direct voice", insisting involvement in the Joint Ministerial Committee process was not adequate representation.
He said: "This is something I will be pressing the prime minister on and she has to listen.
"It's a parliament of minorities and there ought to be respect for the devolved institutions.
"We are looking to work with the UK Government to seek to achieve a compromise which respects the UK vote, but equally there has to be respect of our position.
"It's disappointing Michael Gove is speaking in the way he has done. He has got to think again."
Meanwhile, the former Conservative party leadership contender – who dramatically abandoned Boris Johnson's campaign last year to pursue his own – delivered an emphatic "no" when asked if he would throw his hat into the ring if Mrs May goes.
"The prime minister is going to be prime minister for the lifetime of this parliament," he said.