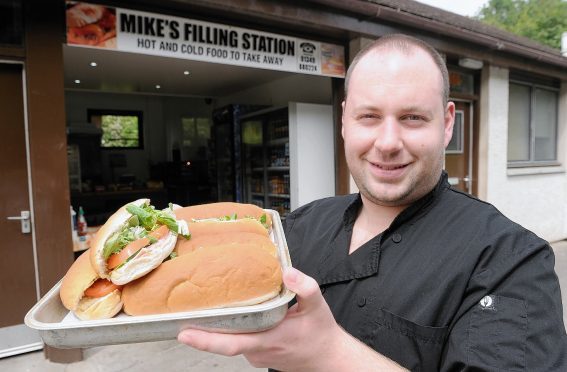 Each week, we ask small businesses key questions. Here we speak to Mike Scott, owner of Mike's Filling Station in Alness
How and why did you start in business?
On leaving school in Alness, I went onto Inverness College to study food and hygiene – paying my way by working in the local Somerfield supermarket, stacking shelves.
This work continued after I left college with my SVQ (Scottish Vocational Qualifications) 1 and 2.
Somerfield was taken over by the Co-op and as the last member of staff in I was the first out when redundancy came knocking. What to do next?
My father is a self-employed driving instructor and he encouraged me to be my own boss and set up on my own.
I have always been interested in food and hearing that a local businesses – Sugarsnaps – had gone bust, I decided to buy the premises.
I was only 19 at the time and my solicitor said I was the youngest client he had ever had. However, with the help of my mother and my grandmother, who still works with me, the deal went through and I became the proud owner of Mike's Filling Station in 2010.
How did you get to where you are today?
I started the business from scratch and promoted it hard via flyers and menus, but it still took 12 months for it to take off. Word-of-mouth is by far the most effective form of advertising.
We are now open six days a week, supplying hot and cold food to order for a wide range of customers in the Alness/Invergordon area.
We also do free deliveries further afield. For example, we had to supply food for 50 to 60 people at an Avis car rental event at Inverness Airport. We also provide a takeaway service from our premises in Alness's Teaninich Industrial Estate, something that my grandmother handles.
Finance was by far the biggest problem that I had to overcome. I was renting my premises from the previous owner, but for a variety of reasons it was necessary for me to purchase it from him and the banks were really unhelpful.
However, thanks to PSYBT (now the Prince's Trust), Highland Opportunity and a little money that I was left by my grandfather, plus a lot of help from my mum, I was eventually able to push the deal through.
I am delighted that profits have increased fourfold over the past seven years but what satisfies me most is the excellent relationship that I have with my customers.
Who helped you?
PSYBY and Highland Opportunity/Business Gateway were superb, and I can't thank them enough. I now have the support of the Federation of Small Businesses and, among other things, its free legal support service for members takes a real weight off my mind.
What has been your biggest mistake?
At first, it was not believing in myself and accepting the deals offered to me without shopping around. Now, I am much more confident and careful – and it shows in my results.
What is your greatest achievement?
Setting up and running a very successful businesses at a very young age. Mike's Filling Station was twice nominated for a Highlands and islands food and drink award and, while we were runners up both times, I was delighted to get that far.
If you were in power in government, what would you change?
I would raise the status of small, independent businesses among politicians, policy-makers, banks, large utility companies and so on. We matter and should be given more respect and support.
What do you still hope to achieve?
To expand into mobile catering and work the larger events and festivals. At a personal level, I want to buy a home for my partner and me.
What do you do to relax?
Try out different ideas for new special offers – our daily food specials increase our sales by about 75%. True relaxation is work-related.
What are you currently reading, listening to or glued to on the TV?
I love the latest movies and keeping up with the soaps, and I also study cookery books to learn new techniques for the business.
What do you waste your money on?
Staying with one supplier – for example, with electricity – rather than shopping around. I have become a lot more hard-headed of late.
How would your friends describe you?
Mad to set up on my own at 19 but really proud now that it has gone so well. I proved all the doubters wrong.
What would your enemies say about you?
Mad to set up on my own at 19, but now I think they would say well done.
What do you drive and dream of driving?
I have an old Toyota Avensis which meets my needs, but I would love a spanking new BMW.