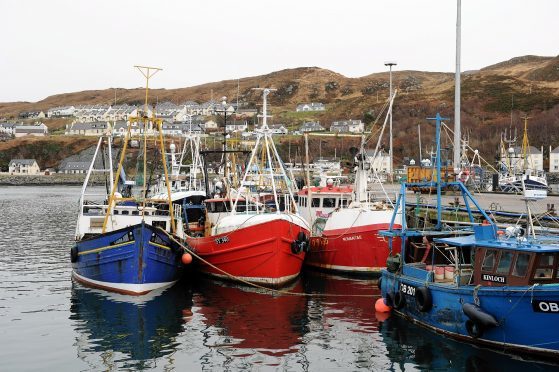 New figures highlight the Scottish fishing industry's major contribution to the UK fleet's best economic performance in eight years.
Estimates from seafood sector body Seafish in its latest annual Quay Issues report show UK landings' income and operating profits increased by 19% to £919million and 22% to £207million respectively last year.
Another key measure of progress – gross value added – surged by 25% to £467million.
The figures are based on data gathered by Seafish from face-to-face interviews with more than 700 skippers and vessel owners.
Seafish said higher fish prices were behind the overall upturn in fortunes for the industry, the bulk of which is based in Scotland.
Profit margins last year were also boosted by UK fishing boats making direct sales to mainland European markets and benefiting from a plunge in the value of sterling since the Brexit vote.
But total operating costs grew by 24% during 2016, despite a 30% drop in fuel expenditure since 2014.
While England's fleet was the largest in the UK by number of boats last year, 45% of the larger vessels were Scottish.
And Scottish fishers landed more fish than any other part of the UK, accounting for 63% of the total.
Landings into Scottish ports totalled more than 442,000tonnes, which was more than double the volume for England and substantially greater than all the other home nations combined.
Figures for 2015 show the Scottish fleet employed nearly 4,180 people on a full-time equivalent basis that year – more than half of the UK total.
Seafish senior economist Arina Motova said: "These are very strong figures for the UK fleet.
"The increase of fishing revenues and continuing low fuel price have played a key role in these great results, and in 2016 this sector's contribution to the economy was at its highest level since 2008.
"At the same time we estimate an increase of crew wages by 27% in 2016, and better economic performance has meant that not only have businesses experienced an increase in profits, but also crew members on average could enjoy higher pay."
Figures from the Scottish Government earlier this year showed the value of fish landings into ports north of the border hit a record £563million in 2016.
The 29% year-on-year increase, driven by better prices, was accompanied by a 3% increase in volume to 453,300 tonnes.
A 1% increase was recorded in the number of active Scottish registered fishing vessels, which stood at 2,038 last year. The number of fishermen employed on Scottish vessels remained similar to 2015 levels at 4,823.
The government said the increase in the value of the Scottish catch was mainly driven by a 41% boost in the value of lpelagic fish, such as herring and mackerel, to £226million.
Mackerel remained the most valuable stock, accounting for £169million of the total catch.
White-fish landings – such as haddock, monkfish and cod – rose by 18% to £169million, with shellfish up 26% at £169million.