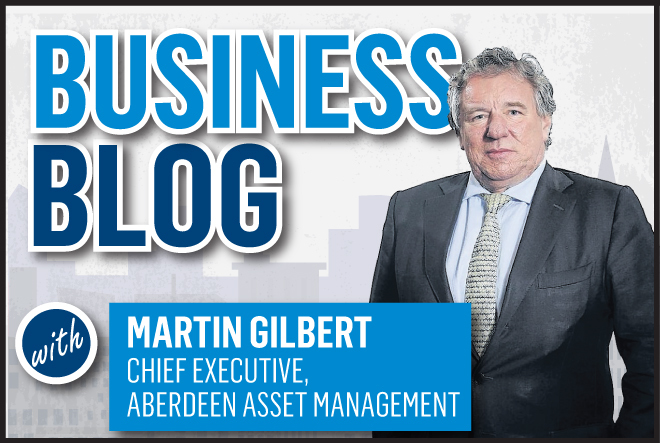 I was honoured to be named entrepreneur of the year at the Elevator Awards at the Mercure Ardoe House Hotel, near Aberdeen. I say honoured because our small corner of the world is home to an outsized number of successful businesses run by the brightest minds.
It is inspiring that the region has so many great and growing businesses from brewers and gyms through to engineers and publishers.
For my part, there's no way that I would have thought the small company Ronnie Scott-Brown, George Robb and I co-founded in 1983 would grow into a global asset manager running more than £300billion and employing thousands of people around the world.
A big part of how we've grown over the years is through acquisitions – in excess of 60 so far and counting.
All of them were motivated by a desire to strengthen the business by providing a better service to customers and clients.
The biggest thing I've learnt is that you can't take anything for granted.
Former Intel chief executive Andrew Gove got it right when he said: "Success breeds complacency. Complacency breeds failure. Only the paranoid survive."
It has been crucial for us never to rest on our laurels. The threat of competition never relents, whether that's coming from your peers in the industry or new entrants.
The history books are littered with examples of companies that faltered because they didn't stay live to the challenge posed by competitors or the changing market environment. Keeping your edge is easier than trying to regain it once it's gone.
While all of the corporate transactions we've done have contributed to Aberdeen Asset's success, some have been more noteworthy than others.
The acquisition of Aitken Hume in 1987 brought with it Hugh Young, who has helped to define us as a leading emerging markets house and shape our active approach to managing equity portfolios.
During the early noughties, we acquired a number of Scottish asset managers, including Murray Johnstone, Edinburgh Fund Managers and Glasgow Investment Management, which all helped to strengthen the business and introduced new talent to join our fund manager teams.
The acquisition of Deutsche Asset Management in 2005 virtually tripled our assets under management and provided us with a global platform to grow our institutional business.
In 2010, we bought various businesses from Credit Suisse which significantly increased the number of cross-border funds we marketed to private banks and the financial institutions.
More recently, the acquisition of Scottish Widows Investment Partnership strengthened our fixed income, property and multi-asset capabilities.
All of these acquisitions and the organic growth Aberdeen has achieved over the years have helped us grow to where we are today.
But I'm not relaxing. The next chapter of our journey is our merger with Standard Life. It's the continuation of what we started back in Aberdeen in 1983 and one of most exciting developments.
By combining Aberdeen Asset and Standard Life the two firms will be able to achieve more together than they could on their own.
We can do this because our respective investment capabilities and expertise complement each other's.
The merger accelerates both companies' ambitions as the deal is extremely complementary in terms of investment capability and distribution strengths.
Our combined business will have a market cap of around £11billion and oversee assets under administration of £660billion. We will be the largest independent asset manager outside the US.
The scale and financial strength of the company will mean we can attract and retain the best talent and invest in the business long-term.
The asset management industry is changing. It is facing various challenges, including the rise of passive investing, pressure on fees and increasing regulatory scrutiny.
At the same time, our role is getting bigger and bigger as the onus increasingly falls on the individual to save for their retirement.
The merger means we will better placed to help people achieve their financial goals by having a broader and deeper range of investment capabilities.
Some people tell me I'm paranoid because I have always spent so much time over the years thinking about how the industry is changing. But that's my job – I'm paid to be paranoid.