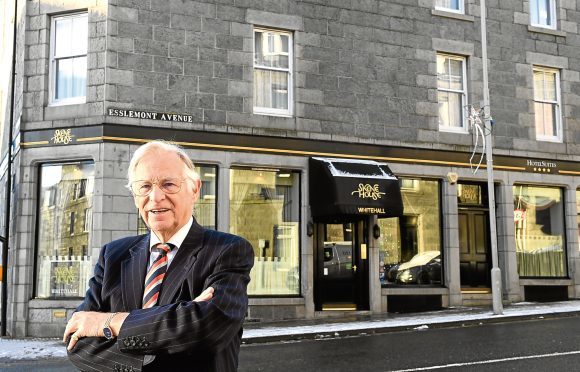 One of the most important rules in business is, always be willing to adapt. And you don't become one of the most successful entrepreneurs in the north-east of Scotland without bearing that in mind.
Following a tough two years 2017 saw, for some, the beginning of "green shoots" sprouting again.
But the impact of the oil and gas downturn coupled with crippling business rate rises has left many companies still struggling.
For those lucky enough to have weathered the storm, they have had to adapt to the ever changing economic and social landscape of the Granite City and the surrounds.
Professor Charles Skene CBE has been a leading figure in the Aberdeen business scene for decades.
The serial entrepreneur has diversified into a number of companies which brought new and exciting services to the north-east.
But as well as introducing these new facilities to the region using his entrepreneurial spark, he agrees that firms need to learn to move with the times if they want to continue to succeed.
In 1979 Mr Skene launched Skene House, bringing the concept of serviced apartments to Scotland.
His goal was to provide a "better alternative" to hotel accommodation for the many families who were relocating to Aberdeen during the oil boom in the 1970s.
Today, almost 40 years on, they have a total of 189 serviced apartments across three sites at Whitehall, Rosemount and Holburn and hold the top two positions on Tripadvisor for hotels in Aberdeen.
However the business has changed quite significantly over the years, and while at one point tourism was the firm's biggest source of income the downturn has resulted in fewer leisure visitors to the city.
So at the start of this year the 82-year-old took the decision to diversify the business again and embarked upon the renovation of the suites at Whitehall to cater for longer-term lets.
During an hour-long interview with The Business, Mr Skene discussed the development of his companies over the years and spoke about his hopes for the city and region in the years and months to come.
"At the start of the year we started to get a number of inquires from people looking to stay with us for long periods of time, three to six months sometimes," he said.
"With business being the way it was in Aberdeen we knew we were not making enough on tourism alone so we sat down and weighed up how many inquiries we were getting. We saw immediately that there was a market there for longer stays.
"That then prompted the conversation – if someone is going to come and stay with us for seven nights or seven years, what do they need? – and so we decided to modernise."
As part of the investment, the firm completely refurbished 12 suites, overhauling everything from kitchens and bathrooms to new curtains and sofas. The rest of the building will be modernised gradually over time.
And to ensure the group was still catering for regular clients and those looking for short-term stays they decided to keep the other two buildings functioning the way they always had been.
Mr Skene added: "Whitehall has a more residential feel. It has its own private gardens and car park, a Wendy house and toys for families. It is more suitable. Whitehall is a perfect size so we weren't having to mix the business. You didn't have the weekenders coming in and disturbing those who are treating it as their home."
As well as adapting to meet the needs of customers, Mr Skene is also well aware they need to keep up with the ever increasing number of new hotels popping up in and around the city.
And over the years he has ensured the hotel suites have been able to compete with the best.
He added: "Look at the competition that has come in and the number of new hotels coming on stream. It's just absolutely unbelievable. I don't understand why these brands of national chains didn't come in 20 years ago. I am glad they didn't but nevertheless it's awfully late but the only assumption is that they think the AECC will fill all those rooms at Dyce, and it may well do.
"That's another reason we decided to modernise. If you take Rosemount, when I did it up 35 years ago I went to David Hicks (interior designer). This was a building that had not been touched since it was built in 1890 or something like that.
"I said I wanted him to modernise it. He agreed to do it, mostly with his fabric and furniture. Then when we did Holburn there are six buildings there and every one of them had a different interior designer working on them. What we get all the time is people saying 'I don't like that colour of wallpaper or carpet' so we decided to give them a bit of a choice."
As well as the serviced apartments Mr Skene also runs fully staffed business centres which provide office solutions for short and long term needs and the Inchmarlo Continuing Care Retirement Community (CCRC) which was the first of its kind to be built in Scotland and the first in the UK in over 100 years.
All of these businesses were considered to be pioneering within the region at the time but the businessman admits he doesn't always get things right after selling off a property in Queens Gardens he then repurchased years later for around 3,000% more than he made from it.
But the entrepreneur always learns from his mistakes, and is always keen to pass on what he knows.
In the early 1980s, the Royal Society of Arts concluded that Britain had become an industrial nation with an anti-industry culture.
As a result Mr Skene was appointed chairman of Industry Year in Grampian and was one of five people in Scotland charged with the task of changing the country's anti-industry culture. When researching the reasons for Scotland's decline as an industrial nation he said it had also developed a culture which was anti-enterprise.
He therefore introduced, in 1986, the Skene Young Entrepreneurs Award to promote enterprise in primary and secondary schools throughout Scotland in both the public and private sector. The Awards ran annually until 2003 when they were incorporated into the Scottish Executive's National Enterprise in Education Awards in 2004.
Mr Skene also has a long involvement as a governor of Robert Gordon University and was appointed the first visiting professor of entrepreneurship by the university in 2000.
Mr Skene said he feels that for the north-east to pick up again people need to have "more get up and go" and act on their ideas.
He said: "I am what you call an entrepreneur. They are basically people who think of something. One of the definitions of entrepreneurship is a dreamer who does. Another one is a behavioural process following the relentless pursuit of opportunity. Both these are very, very accurate. That is how entrepreneurs work they get an idea and think that might work, or that might be exciting. It's not about looking at it for money first, it's the idea that captures your imagination.
"Will that work, has it been done before? That is something we seem to be lacking at the moment and more needs to be done to educate people on how to be of use when out in working life."
As well as his passion for business Mr Skene, who still works full-time, is also a keen traveller and has a great interest in local tourism and how it affects the region.
And he feels more should be done to elevate tourism in the north-east.
He said: "I have been interested in tourism for many, many years and I think it is vitally important for the future of Aberdeen that we improve out tourism offers."
But the keen cruiser warned about the problems that need to be addressed before the city is taken seriously as a destination which will draw in large ships.
He added: "Each time I am asked to discuss what is happening in the city I bring up the Nigg Bay extension to the harbour.
"I still think it's excellent for the city but there are two points that need to be addressed. Nigg Bay was not included in the area that the masterplanners discussed which I find hard to understand. It is like missing the airport out as both things are vital for the city centre.
"But something that needs to be continually borne in mind is the smell from the outfall which, regardless of what anyone tells you, still causes people in Torry a whiff of something other than Chanel Number 5.
"The other thing is that you can't have people coming off the ship in inclement weather and walking along a break water. I think you need a building of some sort."
Mr Skene said he also thinks we should be making more of the facilities already on our doorstep, including Donald Trump's controversial golf course.
The pensioner has always been an outspoken supporter of the development on the Menie Estate and is keen to see more visitors to the area being enticed by the facility owned by the President of the United States.
He said: "We are in an ideal place for attracting visitors. We have the Queen's residence at Balmoral, the golf tourism and the distilleries but I do not think we make enough emphasis of Donald Trump's golf course.
"That is why I gave evidence at the public inquiry. I went and gave evidence in favour of it and at the planning meeting I was one of five people who spoke in favour. At the public inquiry I was asked if I would still be in favour of the golf course if I lost business because of the potentially massive hotel, and I said I would.
"This is because it would broaden the market and I think it is unfortunate that people are always complaining about Mr Trump and his golf course. We should look at it the other way round, which is as a positive thing. There is not that many countries outside America which is owned by the current president of the United States and a golf course which is unbelievably beautiful. I think we should magnify that."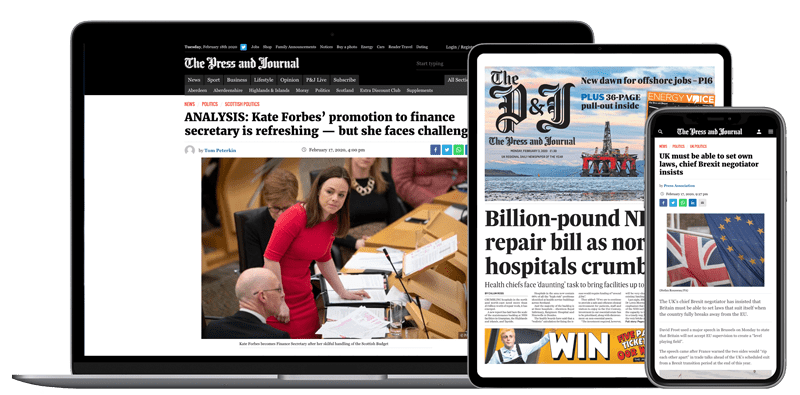 Help support quality local journalism … become a digital subscriber to The Press and Journal
For as little as £5.99 a month you can access all of our content, including Premium articles.
Subscribe