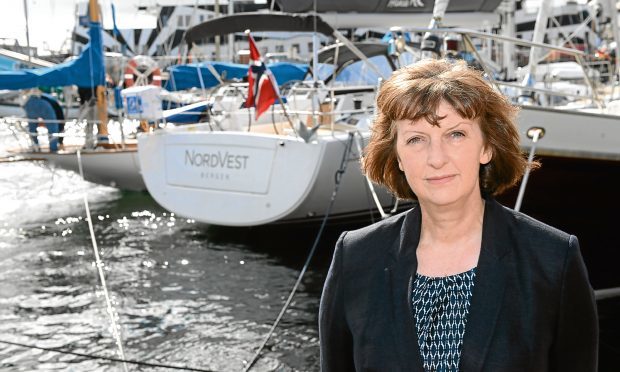 The chief executive of Lerwick Port Authority (LPA) has said its "mixed fortunes" of 2017 are expected to continue throughout this year.
Annual figures for Shetland's main port show it welcomed a record number of cruise passengers last year, as well as attracting its biggest decommissioning project to date and landing the most boxes of white fish since the 1980s. But they also confirm that, compared with 2016, the number and tonnage of vessels were down, as were overall passenger totals and the amount of cargo handled.
LPA chief executive Sandra Laurenson said: "A wide range of factors, positive and negative, influenced the different sectors, with activity ending the year in line with expectations. The overall outlook for 2018 is broadly similar to last year. Positives include a continuing strong performance in the white fish sector, record cruise ship activity, a likely recovery in ferry passenger numbers and slowly improving potential for future offshore-related projects."
Vessel arrivals in 2017 were down 2.8% to 4,896, compared with the previous year, and total tonnage dropped 6.4% to 11.6million gross tonnes. LPA said a reduction in shipments for the oil and gas industry accounted for almost all the drop in overall freight handled, which was lower by 3%, at 926,827 tonnes. Temporary cost-cutting competition on air services between Shetland and the Scottish mainland late last year influenced ferry passenger numbers which decreased 4.6% to 127,624. Boxes of white fish landed jumped 7.7% to 228,651, with a total value up 24% to £21million. Pelagic volumes and prices were lower for the year.