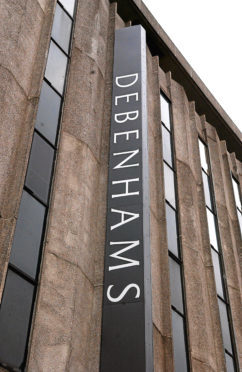 Half-year profits at Debenhams plunged nearly 85% after extreme weather brought in by the Beast from the East hit earnings.
The retailer said its bottom-line pre-tax profits fell from £87.8million to just £13.5million over the 26 weeks to March 3, having taken a major hit during the final days of the trading period when bad weather forced Debenhams to temporarily close around 100 stores.
On an underlying basis – stripping out £28.7million in exceptional costs linked to a strategic review and restructuring – pre-tax profits slumped by 51.9% to £42.2million.
That was below analysts' forecasts, which had placed pre-tax profits at around £44million.
The figures come as another blow to UK high streets, with a string of major retailers having reported financial woes since the start of 2018.
Big brands including Toys R Us, Maplin, Prezzo and Carpetright have announced store closures and job losses amid severe structural pressures.
Debenhams also blamed "a disappointing Christmas season" for increasing competitor discounting and, ultimately, hitting underlying UK earnings, which fell 39.3% over the half-year.
Like-for-like sales dropped 2.2%, with the retailer citing a "challenging UK market background".
Difficult trading over Christmas had prompted a profit warning by the retailer back in January, sending shares down 20%.
The company is now forecasting full-year pre-tax profits at the lower end of the current range of forecasts of between £50million and £61million.
Chief executive Sergio Bucher said: "It has not been an easy first half and the extreme weather in the final week of the half had a material impact on our results. But I am hugely encouraged by the progress we are making to transform Debenhams for our customers."
He added: "We are holding share in a difficult fashion market, and, in other categories such as furniture, exciting new partnerships have the potential to transform our offer. We approach the remainder of the year mindful of the very challenging market conditions, but with confidence that we have a strong team and the right plan to navigate them and return Debenhams to profitable growth."
The firm has started shifting its focus away from fashion towards beauty products and gifts.
Under Mr Bucher, who joined the retailer in 2016, the chain has also been refurbishing stores as part of its Redesigned turnaround strategy.
Debenhams also announced its chief financial officer, Matt Smith, was leaving to take up a post as finance director at Selfridges.
A search for Mr Smith's replacement is now under way.
Shares in the retailer tumbled as much as 10% at the start of trading.
Russ Mould, an investment director at AJ Bell, said Debenhams' full-year profits forecast amounted to a "mild profit warning, given prior management guidance of £55million to £65million range".
Mr Mould added: "That excludes the £28.7million in additional costs and charges relating to the acceleration of the Redesigned strategy.
"This latest drop in annual profits will only add to a grim sequence of declines which makes it clear just how serious Debenhams' competitive position really is."
Debenhams has closed two stores since October in a bid to reduce costs associated with rent and business rates, and identified a further 10 across the UK which could also shut.
The company is tied into long-term leases in many of its stores, meaning it must shed staff to save on costs.
In February, 320 staff were made redundant in a shake-up of middle-management.
Meanwhile, Mothercare has announced the departure of its chairman in what is shaping up to be a clean sweep of its top ranks after parting company with its chief executive earlier this month.
It said Alan Parker had "retired from his position" after six years as non-executive chairman and it had appointed Clive Whiley as interim executive chairman. Mothercare has been hammered on the stock market after warning over profits twice since the start of the year and revealing that talks with its banks were under way.
Elswehere, House of Fraser has appointed KPMG to advise on a restructuring plan.