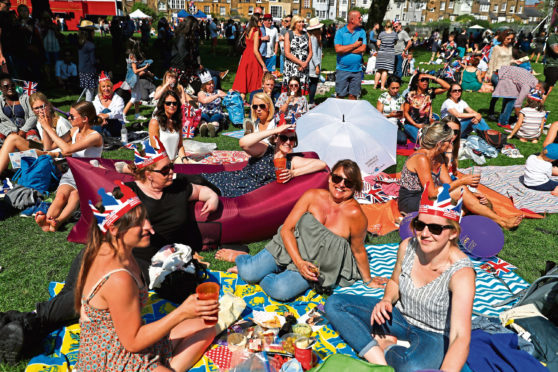 British supermarkets were boosted by the royal wedding and warm weather over the last three months with Asda and Morrisons outperforming their bigger rivals.
Latest figures show grocery sales were up 2.7% on last year over the 12 weeks to May 20.
Consumer panel Kantar Worldpanel attributed the growth to the "recent hot weather combined with the Meghan Markle effect".
There was a particularly noticeable spike in sales on the Friday before the wedding and the FA Cup Final, with grocers seeing £415 million through their tills across the 24 hours.
Chris Hayward, consumer specialist at Kantar Worldpanel, said: "The sun shone on the grocery market over the past month with record-breaking temperatures, a bank holiday weekend and royal wedding fever all contributing to a bumper period."
Barbecue lovers increased sales of burgers and sausages over the last month as they rose by 39% and 12% respectively, while non-alcoholic beer sales jumped by 64%.
More than 16.6 million households bought ice creams, while sun care sales were up 64% on this time last year.
Kantar Worldpanel said the country's second biggest grocer Sainsbury's, who last month announced it was to merge with Asda, posted the lowest sales growth and continued to lose market share.
Sales were up 1% year-on-year, although its market share fell back by 0.2 points.
Morrisons performed particularly well over the quarter with sales growth 2.9% ahead of the overall market, and Asda enjoyed growth of 2.8%.
Sales were up at the country's biggest grocer Tesco by 2.2% on the back of an extra 170,000 customers coming through its doors, despite dropping market share by 0.1 percentage points to 27.7%.
Mike Watkins, analysts Nielsen's UK head of retailer insight, said: "This growth is well ahead of inflation, indicating that despite any underlying concerns shoppers may have around balancing the monthly household budget, they are willing to spend on food and drink.
According to Nielsen, Asda had the most improved year-on-year sales growth of the top four supermarkets at 3.3% over the 12 weeks to May 19, followed by Morrisons (2.6%).