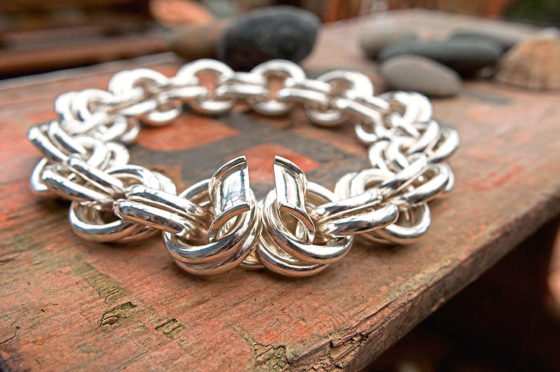 An Orkney jeweller has been commissioned to recreate a, 1,400-year-old Pictish necklace which is kept in the National Museum of Scotland in Edinburgh.
Zoe Davidson crafted her 1kg solid silver version of the famous Whitecleugh Chain, discovered in Lanarkshire in 1869, after she was approached by Orkney archaeology tour guide, Caz Mamwell.
The original chain, thought to date from between 400 and 800AD, comprises 44 silver rings, interlinked into 22 pairs.
Miss Davidson, who has been running her Stromness based business since 2016, said: "The Whitecleugh Chain is full of mystery as nobody really knows who wore it, when they wore it, or how they even made it.
"It's thought the chain would have been a high-status piece, perhaps worn for special ceremonies. The original is very heavy, at almost 2kg, and it was interesting to see how it would have lain and moved on the wearer."
Miss Davidson added: "In recreating their work, I had to explore what techniques and tools they might have used, so it's been a fascinating experience and something of a first for me. I'd love to take on more commissions of this nature."