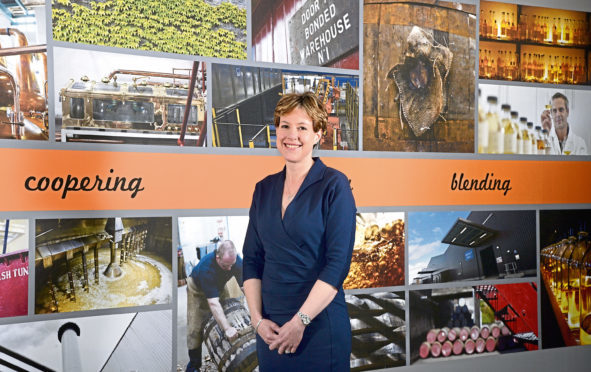 Like a Swiss watch or French perfume, Scotch whisky is one of the world's most-renowned products and the UK's largest food and drink export.
Crafted all over Scotland – from the outer Hebrides to the Borders – Scotch has been shipped from these shores for centuries, cementing its global reputation as a craft product to aspire to. Last year was no different – £4.4 billion of Scotch was exported to more than 180 markets all over the world.
The Scotch whisky industry has played a central part in Scotland's economy for decades. It employs more than 10,000 people in Scotland and through our supply chain – from farmers to distributors – we support the jobs of 30,000 more.
These days, a growing part of the industry's impact across the country is through tourism. Wherever you live in Scotland, you are not far from a brown sign pointing you towards a distillery visitor centre or a Scotch whisky trail.
While distilleries have always been part of the communities around them, now they are reaching far wider audiences, having become significant tourist destinations in their own right, complementing the landscapes, history and friendly welcome that visitors to Scotland have long enjoyed.
But Scotch whisky tourism is not new. For some time, "pilgrims" have been visiting the origins of their favourite dram.
What is changing is the scale of whisky tourism. A very wide range of visitors – from whisky aficionados to those with simply a passing interest – are now visiting an industry site as part of their holiday.
Last year saw record numbers of whisky tourists. More than 1.86 million people visited 66 visitor centres across Scotland to learn about Scotch or nurture their passion for it.
Most will have learned more than they bargained for – not simply about the distillery's history and centuries-old distillation practices, but also for example about the industry's innovative approach to environmental protection.
In addition to last year's double-digit rise in tourist footfall to industry sites (up 11.4% on 2016), visitor spend has increased too, rising nearly 16%.
In 2017 the average visitor spent more than £32 during each visit. Then there is the wider economic impact of growing numbers of distillery visitors to pubs, restaurants, B&Bs, hotels and local shops, which is proving of real benefit to the rural local communities in which much of the industry is based.
For their part, distilleries have invested huge sums in their distillery centres, ensuring the visitor experience is world-class.
Visitors learn about the history of whisky brands, the characters behind them, production methods and so on through innovative technology and in a range of languages; and, critically, dedicated staff charm visitors from near and far with a warm Scottish welcome.
In the past year, the Macallan distillery has opened its new, £140 million distillery and visitor centre, while Diageo has announced a £150 million investment for four of its rural distilleries and the development of a Johnnie Walker experience in Edinburgh; and I have had the pleasure of officially opening the Hebridian Whisky Trail, which connects Talisker, Torabhaig, Raasay and Harris distilleries in a new tourist trail spanning three stunning islands.
These investments put whisky visitor centres on par with some of the UK's largest tourist attractions, like St Paul's Cathedral, the Royal Botanic Gardens in Kew and Tate Britain. Collectively, they are now ranked the third most popular tourist attraction in Scotland.
The growing number of visitors to Scotch whisky distilleries, Scotland's attractiveness as a tourist destination as well as its accelerated growth in small business start-ups require policy-makers to work with the business community on addressing the need for investment in rural infrastructure.
Infrastructure should be at the heart of the debate about how we serve the many tourists, local residents, businesses and their employees alike.
Rural communities, and I don't mean far from the central belt, require good levels of fast, reliable digital connectivity, too, which is vital for tourists and residents, given two thirds of Britons alone use smartphones.
It is important to acknowledge that progress has been made but it remains slow and we will continue to work with the government and other business groups on this vital issue.
Distillers love opening their doors. They are proud of what they do and of the heritage, craft, traditions and communities they support. So go and visit a distillery on your holidays this year. Doubtless among visitors from Germany, the US and Japan, you'll learn something of our unique national drink (even if you already know a great deal), why it tastes so good at home and why it travels so well abroad.