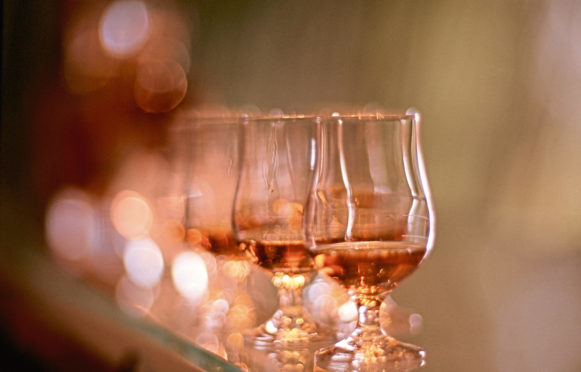 Whisky has a global appeal for visitors who come to Scotland, and the latest figures from the Scotch Whisky Association confirms that appeal, with an estimated whisky export value of about £4 billion to the UK economy.
It is a calling card for Scottish tourism, and visiting a whisky distillery located in Aberdeenshire ranks as one of the top must-see attractions for visitors.
Whisky is synonymous with Scotland, and it's part of that unique brand Scotland that we can harness to increase and enrich our visitor experience. Seven of the eight distilleries in Aberdeenshire offer a visitor experience, which helps to amplify visitor spend and reach our golden £1bn per annum by 2023. Where else can you see how a drink is made and then fill your own personal bottle from a 12-year-old cask? But the benefits of the iconic Scottish whisky brand is not simply restricted to the distillers.
Top chefs throughout the region have incorporated the Scotch spirit in their Scottish fayre, and whisky is appearing in more and more places that people least expect it – even ice cream.
In recent years the north-east has become something of a brewing and distilling hot-spot, adding craft beer, gin and even tequila to the iconic whisky product line-up.
One of the biggest producers to emerge from Aberdeenshire is the phenomenal success story of BrewDog. Once brewed in a garage, the controversial Aberdeenshire brand now has over 50 bars world-wide, and plans to build a new hotel of the kind that has never been seen before – complete with beer taps in rooms. The Dog Walk tour of the Ellon brewery is a popular visitor attraction, and the evolution of one of Scotland's newest and most successful drinks brands shows no sign of slowing, and now also produce whisky, vodka and gin.
Gin produced in Aberdeenshire has been recognised as the best in the world at last year's International Wine and Spirit Competition. The annual spirits tasting event, which took place in London, awarded four gin producers based in the Aberdeenshire region with over a quarter of the possible prizes in the gin category.
What makes this even more impressive is all the prize-winning gins have been in production for less than two years, and to already be recognised as among the best in the world is something we can definitely raise a glass to.
The global gin industry is expanding rapidly, with latest figures showing the export of Scottish gin had increased to nearly £400 million. There is clearly a growing demand for Scottish gin around the world, and Aberdeen is leading the way, further strengthening the region's reputation as a top food and drink destination where visitors can sample the home of their favourite drink.
The north-east of Scotland as a region is known as a fine food and drink destination, and its people are at the forefront of product development and innovation as our thriving drinks industry continues to evolve, creating fantastic visitor experiences.