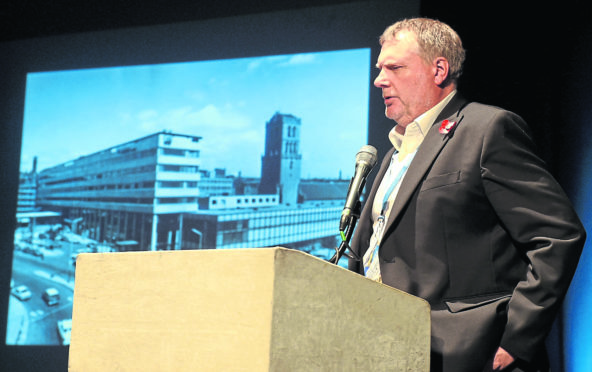 The transformation of Union Terrace Gardens, a giant statue of a bull for the side of the AWPR and a New York-style "Highline" have all been mooted as ways to reinvent the region.
But what will it take to put Aberdeen on the map?
---
>> Keep up to date with the latest news with The P&J newsletter
---
Yesterday industry leaders from across the north-east gathered together at Abzolutely Aberdeen in an attempt to find projects that could really reignite the city's renaissance.
After four years of suffering under the oil and gas downturn and having spent months watching Dundee flourish just 65 miles away, many were wondering what could be done to pick Aberdeen up.
A number of speakers from across the sectors took to the stage at the Lemon Tree yesterday to speak on different subjects but a common thread among them was that the city needs an iconic attraction to shape its image on.
Mike Galloway, former executive director of city development at Dundee City Council, has spearheaded his city's £1 billion Waterfront regeneration and was instrumental in securing the delivery of the V&A, which has already brought thousands of visitors through the doors in its first few weeks.
He said Dundee's redevelopment had been challenging as the city had suffered under a negative image for years. This meant the city struggled to secure investment both had problems encouraging visitors and retaining residents in the area.
However the transformation of the Waterfront has allowed a new image of the city to be formed.
Mr Galloway said: "Twenty-one years ago when I said I was moving to Dundee to take over regeneration they said I was off my head. It's interesting. What was it about Dundee 21-years-ago that gave it such a negative image?
"In the 1960s, planners kind of embraced modernism as an approach to life, design, planning and architecture. Most cities in the UK had similar plans like this, but the problem with Dundee is that they actually did it.
"As a student planner I was told this was how to do it. That's what's contributed a lot to the reputation. That and the fact it's an industrial city. Given that background how the heck did we get to this? (the V&A)"
Mr Galloway said Dundee was transformed through "a strong compelling vision for the city" that was backed up by politicians consistently over the long term.
He added: "We have seen the swingometer move in terms of political alliance but the Waterfront has never been used as a political football by our politicians and I thank them for that."
Political leaders at Aberdeen City Council have frequently clashed over plans for major redevelopment, including the future of Union Terrace Gardens.
In 2010, controversial plans were unveiled to transform the gardens and on May 19 an SNP led Aberdeen City Council voted in favour of the City Square project, which it was claimed would provide a vibrant, cultural civic space and gardens.
But it was thrown out two years later by a labour led administration, despite a referendum in which 90,000 people voted and expressed 52% support for the City Garden Project.
Mr Galloway said public consultation was a "hugely important" part of their masterplan, from which the waterfront redevelopment was born.
And he said for Aberdeen to cash in on a similar success local residents would need to be behind the plans.
He said: "We went through really careful and lengthy process discussing what were the possible futures for Dundee and asked people across the city how they felt. From the feedback we drew up manifestations of to how that might look. There was a process of refining down to a preferred masterplan. When we went back to the public we got more than 95% approval. We as a city began with a single project and very quickly the Dundee partnership decided the waterfront was the project and it was the game changer.
"But don't be jealous of Dundee. It's important Aberdeen develops its own identity and brand so that when people talk about Aberdeen that image comes into their head."
One year on
One year on from the inaugural Vanguard Conference, volunteers who have been working on a series of transformational projects for the Aberdeen City Region provided an overview of the plans that have been put in motion to date.
Abzolutely Aberdeen – A Vanguard Conference heard updates from the groups working across three main themes: tourism, city centre and regional narrative.
Their efforts have included proposals to close Union Street to traffic, a wish-you-were-here-style postcard campaign, a range of activities highlighting the region's food and drink sector and the work being undertaken to tell the region's story in a way that attracts students, visitors and investors as well as boosting civic pride among locals.
There was also an update on the cluster culture initiative which has been taken forward following funding from Skills Development Scotland and Opportunity North East, with a brand new full-time role created to promote the north-east as a hub for the life sciences sector.
Bob Keiller, chairman of Scottish Enterprise and former chief executive of Wood Group, discussed the impact transformational projects can have on the confidence and economic performance of places and highlighted the importance for the need for something like the Kelpies or the V&A to put Aberdeen on the map.
Organised by Aberdeen & Grampian Chamber of Commerce (AGCC) together with Shell UK and Clydesdale Bank, the conference was the latest in a series of events aimed at challenging norms and inspiring bold, new ways of thinking in order to write the next chapter in the success story of the region.
Chamber chief executive Russell Borthwick said: "The Vanguard initiative traces back to a piece of research in 2017 which revealed that three quarters of young professionals in the area felt disenfranchised and uninvolved in the future of the region.
"We created a platform to get them involved in real economic challenges, tasking them with coming up with fresh ideas across a wide range of topics.
"This conference is about sharing the positive progress they have made and reinforcing the message that the north-east is a region filled with vibrancy and passion and with a bright future ahead of it."
Pride, respectability and hard work
The success of Aberdeen, like its football club, rests on pride, respectability and hard work.
These were the wise words of AFC's manager Derek McInnes. He was another speaker at Abzolutely Aberdeen yesterday, tasked with helping the city fall back in love with itself the way he managed to do with the football club and the fans.
He told the gathered delegates: "When I was asked to speak to you all today it was based on what I said when I was appointed – about helping the city falling in love with the team again.
"When I began about the task I asked myself "What do our supporters want and expect?" and in truth it's a hell of a lot. But mostly they want a winning team but also pride and respectability.
"I set about what I wanted my Aberdeen team to look like, which was for it to be an extension of myself.
"My players have to be able to deal with the demands and pressures. They have to care about the team and never hide when they are beaten."
McInnes said that when he arrived he was given five weeks to assess the club and found there was a real lack of enthusiasm and a real lack of energy – traits which some say can be found in Aberdeen residents at the moment.
He said he found AFC had a lot in place which it should have been using to its advantage, but the team was not making the most of the tools at its disposal and was falling behind its competition.
With a bit of work the team was able to pull itself through the hard times to rise through the league and even win a cup, re-igniting the pride and respectability it once had.
But McInnes said one of the biggest problems he has had to face as a manager was dealing with his players who have been subjected to negativity.
He said: "Aberdeen is a city that is capable of strangling itself, being a one club city. Players are aware of social media and what's being said about them and it affects their performance."
Using this analogy, with a little bit of hard work to pull us out from the slump following the oil and gas downturn, he believes it is possible to have a city its residents are proud of and that they respect.
But in order to do that the negativity needs to end, McInnes said.
He added: "There are objectors. That's not going to change, but it's how you deal with it that matters."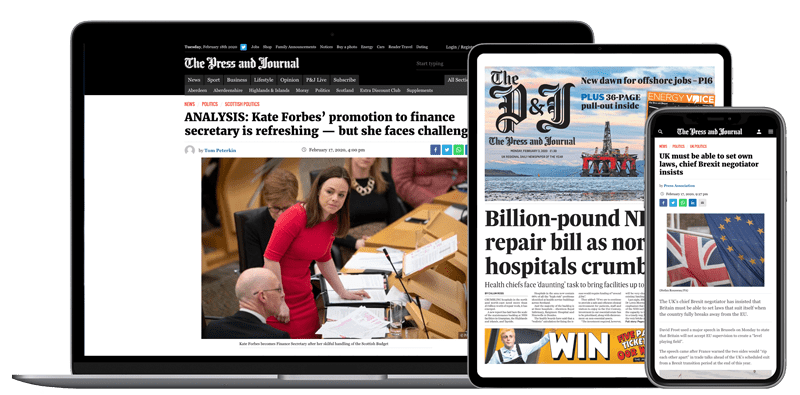 Help support quality local journalism … become a digital subscriber to The Press and Journal
For as little as £5.99 a month you can access all of our content, including Premium articles.
Subscribe