Maersk Training is continuing its rise in renewables to become largest wind training provider in UK, amid the successful launch of the world's first mobile training centre and construction of its second mobile training centre.
In the UK there are people spinning in their graves so fast they could generate electricity. They were the people who looked at James Blyth's achievement of being the first to generate power for his home by wind, and said there was no future in it.
Blyth's invention, a world first, lit his holiday home in Scotland in July 1887, but it would be another 64 years before wind turbines would be considered positively as a generating option in the United Kingdom.
Back in the garden of Blyth's Scottish home, a wind technician could reach the top of the device with a window cleaner's ladder. The blades were horizontal and four meters, today's are vertical and over a hundred, creating a need for a whole new generation of technicians.
These technicians take skill and safety to new heights, and to match that Maersk Training has been as innovative as Blyth in addressing how best to satisfy that demand.
Maersk Training has four centres in the UK and is the first training institution in the world to be accredited by the Global Wind Organisation (GWO) to deliver their full portfolio of courses including GWO Basic Safety Training, GWO Basic Technical Training, GWO Enhanced First Aid, GWO Advanced Rescue and GWO Blade Repair.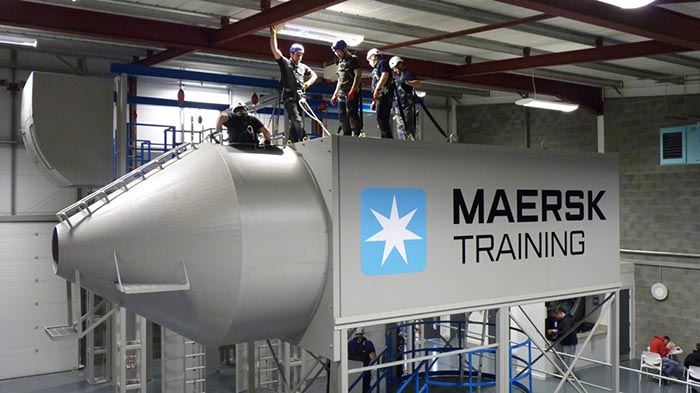 The recent development of a world-first mobile training centre can also take GWO training to exactly where it is most appropriate.
John Abate, Managing Director of Maersk Training UK, said: "Diversification into the renewable industry was a natural development for Maersk Training.
"Over the last 40 years, our purpose has always been to deliver competence beyond compliance within the maritime and oil and gas sectors. The experience, skills and products we have developed over that time within heavily regulated sectors transfers naturally to the wind sector.
"We are pleased to be working with accreditation bodies and local business communities to spread our philosophy of training; driving uncompromising safety standards first, thus improving performance."
It was from the Aberdeen centre that the concept of the world first mobile training centre emerged, adding to the disproportionally huge list of Scottish inventions and innovations.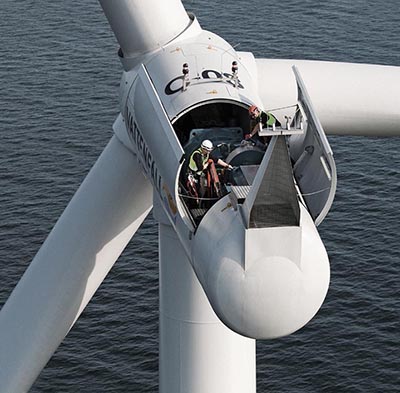 Today the first unit is stationed at Barrow-in-Furness for the Walney windfarm in the eastern Irish Sea. Currently the world's largest, it covers an area equal to 20,000 football pitches.
Training on-site provides benefits from multiple angles: reduced transportation costs for participants, less disruption to normal practices for the employees, proximity to the actual conditions being among the pluses.
It is estimated that being on-site saves up to 60% on training costs.
Maersk Training's centres in Aberdeen, Newcastle and most recently on Humberside, are themselves ideally located to satisfy the wind industry, having been established to satisfy local industry needs.
The most recent centre at Humberside was opened in May 2019 in partnership with CATCH and will support the region during a time of significant growth.
Rob Howes, the Senior Learning and Development Specialist of Ørsted Offshore Wind Operations, said: "It is great news that Maersk Training are moving into the Humber region and particularly into CATCH.
"CATCH is a fantastic learning facility that benefits the Humber massively in terms of Skills and Training.  Ørsted are proud to work with Maersk Training as our main provider for offshore safety training and it is great they will be practically on the doorstep of our New East Coast Hub Facility in Grimsby, where we hope to employ up to 400 people over the next few years.
"The East Coast Hub building will service five of our offshore wind farms operating out of Grimsby and the fact we can access offshore safety training locally has huge benefits.
"We wish Maersk Training and CATCH the very best with this agreement and we look forward to working with them in the future."
For additional details and to hear more about Maersk Training's journey in the wind industry visit their website.