The owner of an Aberdeenshire lingerie shop is offering jobs to former employees of Bravissimo which is set to close its doors next week.
When Melanie Walbrin, owner of Bellewren Lingerie, heard about the closure of the Union Street store she took to social media asking workers to get in touch about possible job opportunities.
Bravissimo, which employs around 10 staff, announced earlier this month the branch would close on April 26.
Closure a 'shock' to staff
Ms Walbrin, who opened her business in 2017, said: "I thought I might be able to reach out to some of the staff and offer them positions because it's quite tricky to find anybody with any experience so I thought why not do a post.
"You never know who might see it.
"I know in February they were recruiting so I can imagine it came as quite a shock to the staff just a month later to find out it was closing.
"Hopefully we will get someone from Bravissimo."
Ms Walbrin did the same thing when she heard John Lewis was closing and last August hired bra-fitter Norma Birnie who previously worked at the department store.
So far she has received a few emails with one of them from a Bravissimo employee.
New premises as business grows
She said: "I'm looking for one part-time member of staff and someone to work on a Saturday.
"The business is growing steadily but it's quite a tricky industry to make a success out of as Bravissimo has just proven."
Ms Walbrin has recently moved to new premises within the Elevator Business Centre in Westhill due to growing demand for her products.
She said: "It has been super busy and not long after moving here I found out about Bravissimo shutting down.
"It seemed like an ideal time to recruit.
"Before I was working from my house.
"It was fine when I was doing 10 bra fittings a week but now I'm five to 10 a day.
"I started looking for a commercial lease for a shop but all the areas I would have liked were too expensive.
"I've now got a bigger space in a professional setting and it's very diverse.
"It's going really well and better than it ever has been."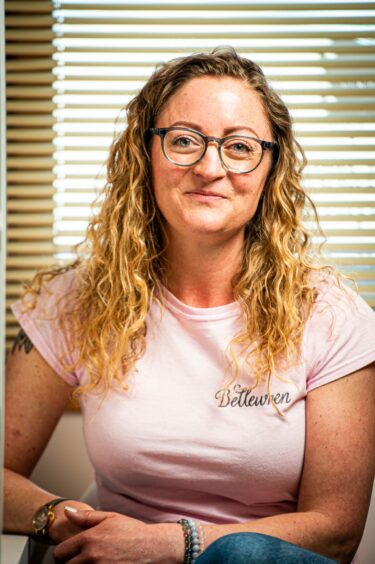 Overcome challenges
Ms Walbrin is well aware of the tough situation facing many families across the north and north-east with the cost of living crisis – but has faced more problems due to Brexit and Covid-19.
She said: "The thing that was very tricky for us was Brexit.
"I buy in from brands and a lot of them come from Europe so that was a pain.
"Obviously Covid goes without saying. It had a knock-on effect for sourcing materials and getting stuff shipped because of issues with warehouse staff.
"We've had to put a few of our prices up but that's due to an increase in shipping fees and materials costing more."
A statement on the Bravissimo Aberdeen website said: "It's with a heavy heart, that we're letting you know we have made the difficult decision to close our Aberdeen shop on the 26th April.
"We have welcomed so many of you through our doors over the years and our wonderful team have loved seeing you leave with a 'well-supported' spring in your step."
Caroline Bartlett, retail and customer director for Bravissimo, said: "Although our Aberdeen shop will sadly be closing at the end of April, we want to say a huge thank you to our amazing customers and team, who have supported Bravissimo in our Aberdeen shop over the years.
"We are still here to support and uplift all our customers; in our 25 shops across the UK, on our website or with our customer service and virtual shop teams, through virtual fittings and over the phone."