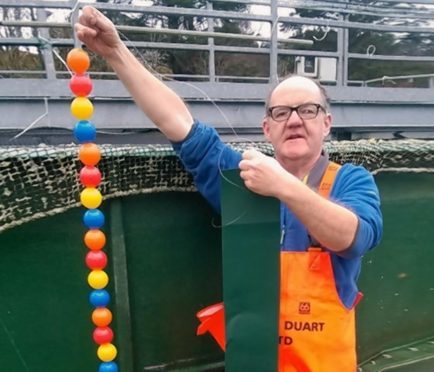 North farm salmon farmer Loch Duart has introduced ball games for its fish in an attempt to stop them biting each other.
Loch Duart – based at Scourie in Sutherland – claims the move, along with other measures to keep juvenile fish occupied, is a major breakthrough for animal welfare.
Young salmon in hatcheries have been observed nipping the fins of other fish and, uncontrolled, the damage can have a long-term effect on the health and quality of the stock.
A spokeswoman for Loch Duart, which employs around 100 people at sites in Sutherland and the Hebrides, said: "It is widely accepted that fin damage is an indicator of poor fish welfare but, until now, no new strategies which address the problem have emerged.
"We know that most fin damage in freshwater salmon, and especially dorsal fin damage, is due to fish biting each other. Overcrowding is another cause.
"Initially the assumption was that the biting was simple aggression but, looking more closely at the behaviour, it is clear it is different to other aggressive interactions between the young fish.
"One major cause of biting is interruptions to feeding, either accidental or intentional, which make the salmon hungry and aggressive. Other factors such as low water current and higher stocking densities can also contribute."
Loch Duart hatchery manager David Roadknight and his team started to wonder if boredom could be a factor.
"The answer we came to was based on further observation," the firm's spokeswoman said, adding: "Tank interiors provide a very bland and uninteresting environment, even for very young fish.
"The team concluded that putting some environmental enrichment into the tanks might help to reduce the boredom factor."
Pieces of tarpaulin were hung in the tanks to give young salmon a place to hide, giving them protection against "bully" fish – the major biting culprits. The fish were also given balls to play with.
Loch Duart's spokeswoman said: "All animals play and salmon are no different. This can lead to behavioural problems, with the dominant fish nipping the dorsal fins of their tank mates – a sort of fish tag game with consequences.
"Once this behaviour starts, it is very hard to stop. The balls are points of interest and items for the salmon to play with and around – and they do, breaking the pattern of aimless circles."
The results have been impressive, with Loch Duart reporting changes to swim patterns and an improvement in dorsal fin quality.
Managing director Alban Denton said: "David Roadknight's innovation has the potential to improve the welfare of salmon in hatcheries significantly."
Stirling University aquatic population health and welfare professor Jimmy Turnbull said: "This is obviously a very small study and you cannot extrapolate too far from it.
"But the fish in the tanks with enrichment apparently have better fins and this is very promising".