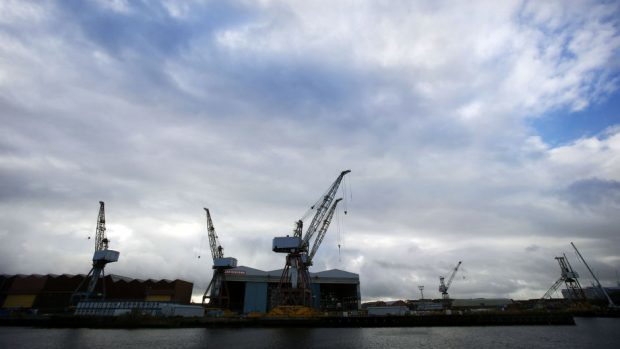 The UK Government has insisted it remains committed to shipbuilding on the Clyde amid fears of delays to the Type-26 frigate programme.
Unions at BAE Systems have raised concerns construction of the eight warships is being put back a year, prompting speculation of redundancies.
Defence Minister Philip Dunne stressed yesterday "nothing had changed" since the government's review in November, when the initial Type-26 order was cut back from 13.
He said the plan to spend £8billion on the anti-submarine vessels over the next decade remained on track.
But he repeatedly refused to rule out redundancies and confirmed the project's current demonstration phase was to be extended until June 2017.
During an urgent question called by Labour in the Commons, SNP defence spokesman Brendan O'Hara said news of the "revised timetable" confirmed the Tories had been "creating the conditions to once again betray the workers on the Clyde".
The Argyll and Bute MP pointed to "grave concerns" among workers the UK Government could renege on assurances made by Prime Minister David Cameron before the independence referendum – that Scottish defence jobs would be more secure as part of the UK.
Echoing a statement by Scottish Secretary David Mundell before the debate, Mr Dunne said that had Scotland voted for independence, there would have been no more ships built on the Clyde.
He added: "We will be proceeding with construction of eight complex Type-26 warships on the Clyde as and when the programme is ready to do so."
The Tory frontbencher told MPs it would provide work for "decades to come".
But SNP MP Tommy Sheppard said the job security the minister spoke about would be of little help to anyone made redundant "between now and when your department makes up its mind what it's going to do".
And Ross, Skye and Lochaber MP Ian Blackford said Mr Dunne had "let the cat out of the bag" that the construction process was being put back when he confirmed the demonstration phase extension.
Northern Isles MP Alistair Carmichael asked for an assurance that between the end of construction of the offshore patrol vessels and the start of the Type-26s, everything would be done to ensure continuity.