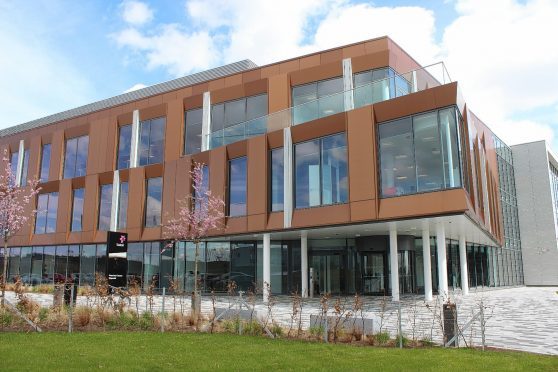 Norwegian oil firm Statoil has completed its move from Aberdeen city centre to plush new offices in the Prime Four business park at Kingswells.
Statoil House will from now on serve as the operations centre and headquarters for its development and production activities in the UK and Ireland.
A total of 60,000 square feet of office accommodation are expected to house about 200 employees.
Tove Stuhr Sjoblom, managing director for Statoil Production (UK), said: "We are delighted to take up residence in these modern and practical facilities, built to serve our needs for the long term as an operator on the UK continental shelf.
"With state-of-the-art technology and an open layout designed for collaboration, this office will help us deliver safe and efficient operations and underpin our goal of being a great place to perform and develop for all employees."
The new office complex was built to Statoil's specifications by civil engineer Sir Robert McAlpine under a contract with business park developer Drum Property Group.
In addition to office space and meeting rooms, the building is equipped with integrated operations rooms designed to encourage good communications and understanding between onshore and offshore workers.
Work on the site started in late 2014 as Statoil prepared to ramp up its north-east presence in advance of its £5billion Mariner project east of Shetland.
Mariner is expected to initially employ about 700 people, including contractors, after start-up on the oilfield in 2018.
The field is forecast to produce more than 250million barrels of heavy oil during its 30-year lifespan.
Statoil is also behind the £180million Hywind Scotland offshore wind project, the world's first floating windfarm, about 15 miles off the coast of Peterhead.
It is just over two years since the firm announced plans to move to Prime Four from offices in Chapel Street, Aberdeen.
The Stavanger-based group's Aberdeen-based workforce comprised just three people at the start of 2013. By the end of 2014 there were more than 100.