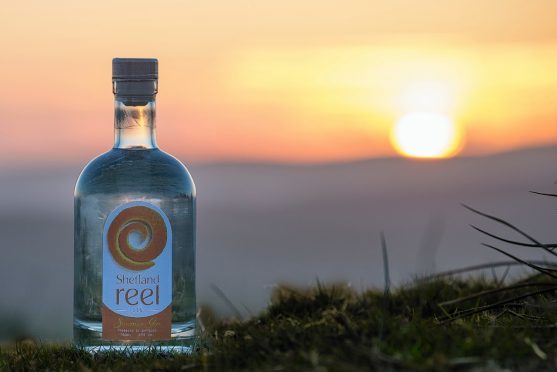 Shetland's long summer twilights, which islanders call the simmer dim, are celebrated by a special edition gin launched yesterday.
It is the fourth gin to be produced to date by the UK's most northerly distillery, the Shetland Distillery Company (SDC) operation on Unst.
SDC described its latest product, Simmer Gin, as having an intense orange flavour and spicy finish.
Its official unveiling at the Edinburgh Juniper Festival came on the eve of World Gin Day, celebrating a recent renaissance of the spirit globally.
Industry figures show that in the UK alone, sales of premium gin have rocketed by one-third since 2010.
Nearly 50 gin distilleries were opened around Britain last year.
SDC was established in 2013 as a partnership between Scotch whisky industry specialist Stuart Nickerson and his wife, Wilma, and Saxa Vord owners Frank and Debbie Strang. The distillery is in the supplies building of the old RAF base.
Mrs Strang said: "Midsummer is a magical time in Shetland, with the sun barely falling below the horizon.
"It can often feel like there's no end to the day, and we took our inspiration for the new gin from this phenomenon.
"This gin is imbued with a lovely orange flavour, reflecting those lasting amber skies, and a spicy finish to give you a warm summer glow."
Simmer Gin has an alcohol by volume rating of 49% and ingredients including orange peel, orris root powder, liquorice root and caraway seeds as well as more customary juniper berries.
The recipe was fixed with the help of local people working in tourism, the drink trade, hotels, cafes and others during two tasting sessions, one on Unst and another in Lerwick.
SDC unveiled its award-winning Shetland Reel gin in August 2014, while the firm's Ocean Sent gin, featuring native Shetland seaweed, was launched late last year.
A special Up Helly Aa gin emerged earlier this year to celebrate the annual Viking fire festival held in Shetland.
SDC has also produced two Shetland-bottled whiskies, one of which won a gold medal at the 2016 San Francisco World Spirits Competition.
Managing director Mr Nickerson said: "Our approach is to develop a range of special editions at different times of the year to complement our core products."