As the Press and Journal's Keep HIE Local campaign gathers pace, the agency's former chairman and SNP party member, Professor Jim Hunter, today accuses SNP ministers of launching an "assault" on its founding principles.
The Scottish Government's decision to deprive Highlands and Islands Enterprise (HIE) of its own board is no bolt from the blue – it is the culmination of repeated moves by SNP ministers to rein in and now end the independence of the north's development agency.
The case for this independence was put powerfully by the then Labour government's Scottish Secretary Willie Ross when, in 1965, he introduced in the House of Commons the Bill that put in place HIE's predecessor body, the Highlands and Islands Development Board (HIDB).
For nearly 100 years, Mr Ross told MPs, politicians of all parties had tried to stem the runaway depopulation that began with the Highland Clearances.
Crofters had been protected from eviction, and thousands of new crofts created. Railways, roads, bridges and piers had been built.
The taxpayer-financed Hydro Board had linked almost every community in the Highlands and Islands to the national grid.
Life in the north, as a result, was 'a bit better than it was'. But population loss had not slowed. It had thus become "obvious" that what the Highlands and Islands required was "an authority with executive powers" to "deal comprehensively" with every obstacle in the way of betterment.
The resulting authority, the HIDB, would have "no easy task", Mr Ross warned. "Imagination, patience and persistence will be needed."
The HIDB would be well funded by government, Mr Ross said. But it would also be free of ministerial direction. The new agency, Ross insisted, "must have powers to act at its own hand"; powers to assess what needed doing in the north; powers to set about doing it.
The HIDB, then, was provided both with operational freedom and with a unique set of economic and social development tools.
And when, in 1991, HIE took the HIDB's place, Conservative Scottish secretaries Malcolm Rifkind and Ian Lang made sure these were inherited intact by the new organisation.
Had the outcome been failure, there might be justification for the present Scottish Government's assault on HIDB/HIE's founding principles.
But what's been accomplished in the north since the agency was put in place has in fact been transformational.
One statistic sums up the extent to which ambitions have been fulfilled.
In the 50 years since the HIDB took shape the population of the area served today by HIE has increased by nearly 100,000 – or more than 22%.
The north's rate of population growth is far higher than that of Scotland generally (the all-Scotland increase in the same period being around 2%) and it's founded on numerous achievements in which HIDB/HIE has had a key role. Here are a few:
Regional unemployment rates, once a multiple of the Scottish average, below those of Scotland as a whole.
A buoyant tourism industry boosted by a proliferation of first-rate restaurants and eating places.
Higher rates of business start-ups than in Scotland overall.
Establishment and continuing expansion of the University of the Highlands and Islands (UHI)
Growing pride among our young people in their home localities and growing interest on the part of young folk elsewhere in making their lives here.
There is much in this for the Scottish Government to build on – perhaps by creating HIE equivalents in areas like Dumfries and Galloway that are today more disadvantaged than much of the Highlands and islands.
Instead SNP ministers have cut HIE's budget, abolished its ten Local Enterprise Companies (which gave places like Lochaber, Shetland and Moray their own policy-making voice) and turned the organisation into a Scottish Government "delivery agency" – HIE, in consequence, no longer having the "powers to act at its own hand" that Willie Ross thought crucial.
All this is of a piece with SNP ministers' apparent wish to replicate in Scotland one of the wider United Kingdom's worst features.
Just as power and wealth have been overly concentrated in London, so power in Scotland is being concentrated in Edinburgh.
In a country as diverse as ours – where not just the north but the north-east, the Borders and the south-west have their own outlooks and requirements – this centralism run riot needs resisting.
That's why, as an SNP member, I hope the party's Highlands and Islands MSPs join with others to reject the Scottish Government's plans for HIE.
There is a case for HIE to be refocused, reorganised and re-empowered; a case for it to concentrate more on areas (such as Caithness, the Western Isles and Argyll) where a big developmental job remains to be done; a case for ensuring that a clear majority of its board members (and ideally its chair) work and live in the Highlands and Islands.
But there is no case – other than ministerial control-freakery – for continuing to undermine an agency whose record shows it to be one of Scotland's success stories.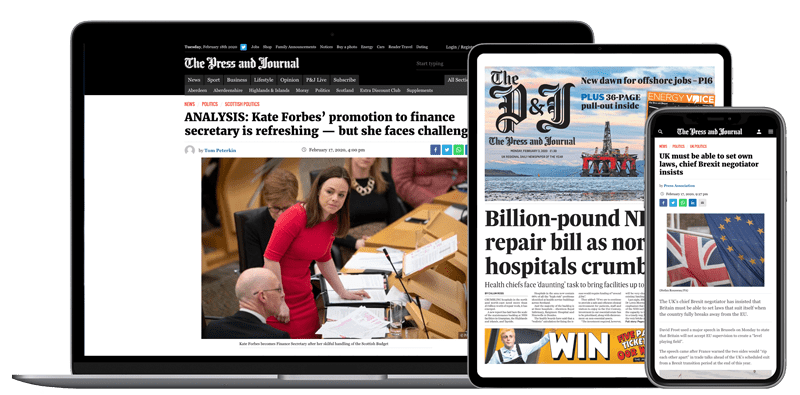 Help support quality local journalism … become a digital subscriber to The Press and Journal
For as little as £5.99 a month you can access all of our content, including Premium articles.
Subscribe