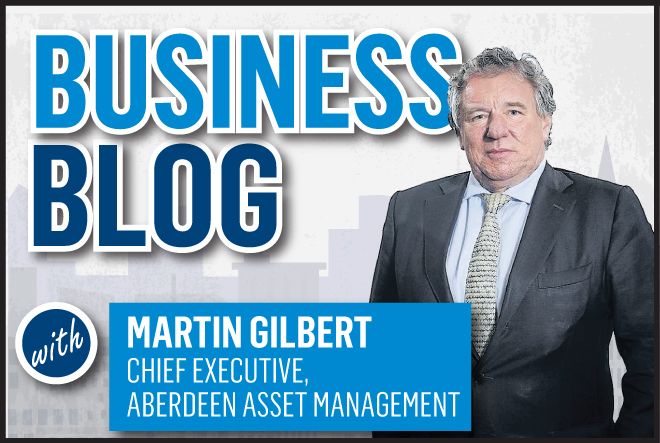 We are living in uncertain times. The past six months have witnessed the Brexit referendum vote, the election of Donald Trump as US president and the resignation of the prime minister of Italy after losing a constitutional referendum. Whatever opportunities for the discerning investor may arise from these events there's no doubt their initial impact on markets is destabilising.
When we held our annual Aberdeen Asset investment conference last month its theme was "From disruption to empowerment" – how to deal with a world of uncertainty and what is needed to ensure that instead of being overwhelmed by a torrent of change investors are supported and empowered.
In advance of the conference we produced a research report. Its most significant findings showed that political uncertainty was considered by 74% of institutional investors and consultants and 66% of IFAs as the most likely disruptive force in the investment landscape in 2017. That's on top of the challenges posed by an already highly demanding regulatory environment.
There's a clear anti-establishment trend in many Western societies, fuelled by a world of low, non-inclusive growth in which people feel worse off and believe their voices are unheard. Elections due across Europe in 2017 could result in further rejection of the established order. Political risk is traditionally seen as an emerging-market issue, but now looks set to be a fixture in developed markets for the foreseeable future.
How can the financial industry best respond to disruption? An encouraging feature that emerged from our research report was the resolve of investors not to be deflected from their long-term goals. Long-termism is crucial in overcoming the challenges of disruption and empowering investors.
So are innovation, developing technology to drive down costs but not to the detriment of management skill, and financial education of trustees (recommended by 82% of respondents to our research) and pension scheme members and individual investors (85% of respondents).
Policymakers have a responsibility to maintain stability and create a fiscal and regulatory environment in which the financial industry can deliver the investment returns on which our clients and the wider community depend.
At Aberdeen Asset our response to disruption is to remain focused on the long term, while embracing innovation, investing in good companies, bonds and property around the world and holding them through cycles of uncertainty. We think in terms of opportunity, not threat.
There will be significant opportunities lurking within the fog of disruption for those investors with the initiative to seek them out. You don't have to look further afield than Aberdeen and the north-east to see how an innovative approach to diversifying an economy can create wealth and jobs.
Earlier this month I attended an Oil & Gas UK business breakfast in Aberdeen where the challenges facing the industry were outlined. Increased collaboration among companies, both operators and suppliers, is seen as a priority to optimise capabilities and reduce costs, and the collaboration index score has improved from 6.1 (out of a possible 10) in 2015 to 6.6 this year. This is undoubtedly a step in the right direction but there is more work to be done.
The North Sea still holds up to 20 billion barrels of oil. Last month Opec agreed its first production cut since 2008, of 1.2m barrels a day, and oil prices surged. In 2015 North Sea production increased by 10.4%, with operating costs cut by 45% from 2014. Unfortunately, since 2014, the number of Scottish jobs supported by the oil and gas industry has fallen by 46,000.
But investors, both private and public-sector, have embraced opportunities to diversify the local economy. The north-east has just become the beneficiary of a City-Region Deal worth £250million, jointly funded by the UK and Scottish governments, intended as a "catalyst for economic growth and diversification" in the area.
It will support the new Oil and Gas Technology Centre in Aberdeen, the proposed expansion of Aberdeen Harbour, hubs for digital infrastructure, agricultural innovation and transport. It is expected to create around 3,300 new jobs over the next decade, while generating corresponding tax revenues.
This boost for diversification in the north-east complements Sir Ian Wood's Opportunity North East (ONE) private sector-led business initiative with the aim of modernizing the North Sea oil industry while simultaneously diversifying the local economy by promoting investment in the food, drink and agriculture industries, life sciences and tourism.
Overall, the potential in and around Aberdeen is enormous, as demonstrated by this year's Queen's Award for Enterprise, which recognized the achievements of five Aberdeen-based companies, two of them in the food and catering industry.
That is the way forward: driving innovation in the still important, if volatile, North Sea energy industry, while diversifying and investing in the local economy as an alternative generator of wealth and jobs in the future. It's simply a question.
To all P&J readers, Happy Christmas and all the best for 2017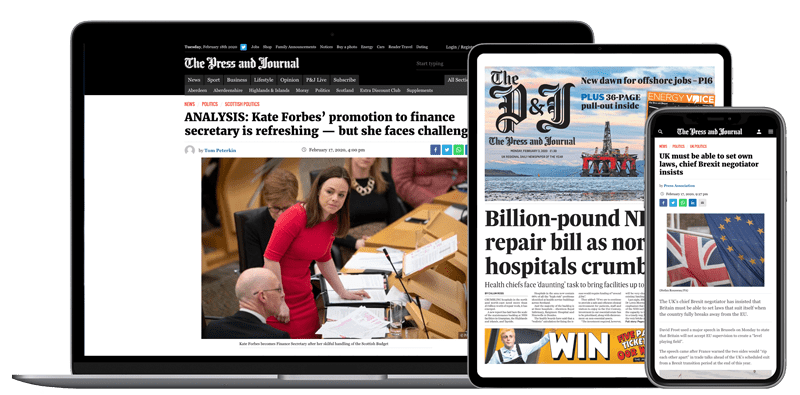 Help support quality local journalism … become a digital subscriber to The Press and Journal
For as little as £5.99 a month you can access all of our content, including Premium articles.
Subscribe