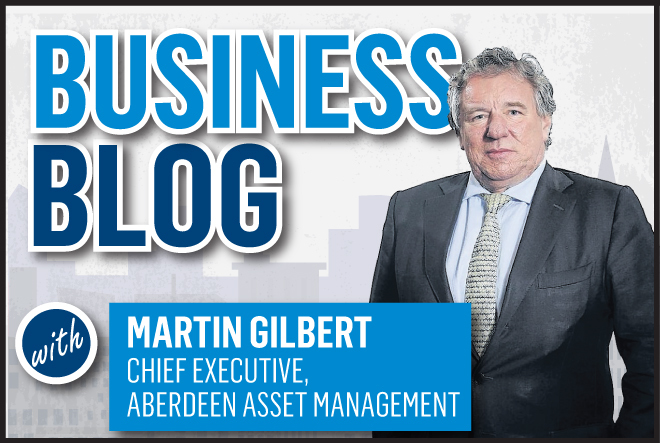 Away from the news of Aberdeen Asset Management's proposed merger with Standard Life, Scottish Apprenticeship Week 2017 was held earlier this month. Under the auspices of Skills Development Scotland (SDS) it provided another successful boost to the promotion of apprenticeships. This year's theme was "apprenticeships are changing" and more than 200 events organized in different Scottish local authority areas highlighted this development.
SDS described Scottish Apprenticeship Week as "an annual campaign to showcase how apprenticeships work for businesses, individuals and the economy". It's aimed at engaging businesses, industry, colleges, sector skills councils and training providers in the expansion of apprenticeships and encouraging employers to take on apprentices. This is a key economic activity, creating a skilled workforce for the future.
To coincide with Scottish Apprenticeship Week the Scottish government confirmed the target for apprenticeship starts was being raised to 27,000 this year, 1,000 higher than in 2016. Over the past decade more than 200,000 modern apprenticeship (MA) starts have been recorded.
At Aberdeen, we are very proud of our apprenticeship programme. Last week, we welcomed Kevin Stewart MSP to our head office on Queen's Terrace who met seven of our current crop of apprentices and discussed their experiences working for the company. Mr Stewart also congratulated the team on their recent fundraising efforts which included a sponsored sleep-out raising more than £14,000 for homeless charity Aberdeen Cyrenians.
Since the creation of our programme in 2012, we have taken on 32 apprentices in our Aberdeen and Edinburgh offices. To date only three have left the business, two to further their education at university and the other to go backpacking across New Zealand. That means that over 90% of those who joined us through our programme continue to work for the business which is hugely encouraging. We are particularly delighted that one of our apprentices, Sophie Ewen, was named Scotland's 2016's Apprentice Ambassador of the Year and now has a permanent role within the business.
The "apprenticeships are changing" theme of this year's Scottish Apprenticeship Week reflected the increasing variety of provision. Important examples of the way in which apprenticeships are changing include foundation apprenticeships and graduate level apprenticeships.
Foundation apprenticeships reflect a new philosophy in the relationship between education and career development by introducing school pupils to the workplace. Pupils will usually begin their two-year foundation apprenticeship in S5, spending time out of school, either at college or with a local employer. Eight subjects are currently available, including financial services, software development and civil engineering.
Foundation apprenticeships are linked to growth sectors of the Scottish economy, to give youngsters industry experience that will help them make a successful career in their chosen field. By August this year, foundation apprenticeships should be available in every local authority area in Scotland and in every school by 2020.
Graduate level apprenticeships are designed to support employers in developing the skills of employees, providing work-based learning opportunities up to master's degree level. Apprentices can progress to the highest level of professional qualifications with a range of entry and exit points, from a higher national diploma (SCQF level 8) to a master's degree (SCQF level 11). So, while in continuous employment, apprentices enjoy the same learning opportunities as those following the traditional route of direct entry to college or university.
Graduate level apprenticeships could help overcome prejudice against apprenticeships. Surveys conducted by the Chartered Institute of Personnel and Development and the Association of Chartered Certified Accountants show that less than 20% of working parents with children under 18 thought apprenticeships had the same status as university education and that more than 20% of 16-18 year-olds believed doing an apprenticeship would leave them earning less than if they attended university. Graduate level apprenticeships may, in time, end that false perception.
Both private and public sectors are cooperating in promoting this crucial training of our workforce and, as in any pioneering endeavour, issues will arise. The Scottish government has decided to allocate more than half of funding from the recent UK government's apprenticeship levy scheme to a range of workforce development and pre-employment support programmes. That will leave £82million for modern apprenticeships, £6.8million for foundation apprenticeships and £4.7million for graduate level apprenticeships.
The Scottish government claims such flexibility is business-friendly, a view supported by Carolyn Fairbairn, director-general of the CBI. On the other hand, some Scottish employers are unhappy about the policy and are allegedly threatening to shift their apprenticeship training to England where funding has been ringfenced. I suspect this debate will continue for some time and will only be resolved by experience of the outcomes.
Whatever the result of these different approaches, my clear dedication to apprenticeships will continue. Joining as an apprentice and being exposed to the culture of a company from day one is an ideal way of encouraging people to contribute innovative ideas that are firmly rooted in the business's values.