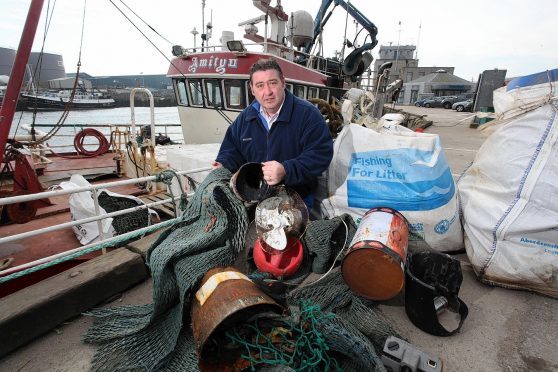 As I transit across the beautiful and varied landscape of Aberdeenshire when out delivering my prized and much enjoyed Langoustines at various restaurants and chip shops, I can't help but notice how the landscape is changing.
The construction of the of the £745millionpound bypass is well underway.
It's starting to sprout concrete towers and roadways all along its 28-mile semicircular route like spring shoots of daffodils we all enjoy in the spring.
Construction started back in 2015 after a lengthy delay due to objections and court cases, however I'm confident that business and commuters alike will benefit hugely from this investment with estimates running into billions of pounds over the next 25 years.
Crossing the city regardless of chosen route or working day hours can be a challenge and time-consuming. As well as that, it is costly on the different and varied sectors of business that operates both north and south of the city.
Shire towns and villages north of Aberdeen will have much to gain and perhaps attract new business to locate in the 'energy corridor'. Energetica covers a 30-mile stretch that extends from Peterhead, south to Bridge of Don and west to Aberdeen International Airport.
This would hopefully secure and retain people's skills and business in a beautiful part of the shire and must be embraced. Couple this with continued investment at the two ports of Fraserburgh and Peterhead in providing marine facilities to both energy sector and the fishing industry.
This is now built on long-term sustainable fisheries exporting a variety of fish species across the world. The high-speed highway to connect us with the rest of Scotland and beyond will be invaluable to all who depend on good transport links and who will benefit? – all of Scotland and beyond.
North East Scotland contributes 20% of the Scottish economy and for the area to remain competitive and encourage growth, we need healthy highly motivated people at work who are the company's best asset.
Getting your staff to and from work as they commute from rural towns and villages safely will improve on absenteeism with people living less stressful lives, resulting in improved output and growth.
Overall, I for one can only see a positive and successful outcome of this massive infrastructure investment that was discussed in 2003. Back then, it was estimated to cost tens of millions and when complete in 2018, it will likely cost hundreds of millions.
Huge sums of money but in that 15-year delay, billions have been lost to our communities. I say crack on and let's get this great area a hub of productivity and excellence.