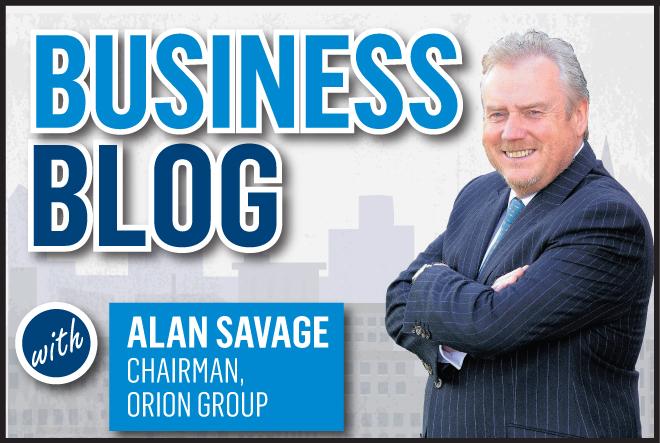 As we enter the summer months, I'm reminded about the number of tourists who flock to Scotland for their holidays each year. VisitScotland's latest figures show we receive 15million visitors a year, translating to income of £5billion. It is a sizable audience to which we can showcase our wares.
The countries of origin of these tourist groups are many of the same nations we are doing most business with; the USA, Germany, France. We already showcase our landscapes, hospitality, food and drink, but there's more to be done. Tourism can become a shop window for businesses of any size and within many sectors. The people spending their time and their money in our country have businesses of their own back home and appreciate seeing a vibrant agriculture sector, modern, efficient railways and bustling harbours. These highlight an active country with industries on the up.
We must all make the most of this and put our best foot forward as we represent our country. VisitScotland also captures figures for business tourism and at Orion Group, this is an area we have direct involvement. We've all seen the number of people who fly in for international oil and gas conferences and towards the end of this year's summer season we'll have Offshore Europe held in Aberdeen. The most recent figures show that more than two million people were business travelers in Scotland. This was more than six million nights away from home and £600million in expenditure.
Orion Group sees Offshore Europe and other major Scottish-based conferences, such as this month's All Energy in Glasgow, as a chance to reconnect with industry peers we may not have seen in person for several months. This is a time to catch-up and share successes or debate our daily challenges. We find that in the close-knit Scottish business community there's always somebody who knows somebody who can offer support.
Just like renowned Scottish hospitality, we always strive to make not only the right first impression at Orion Group, but create a lasting impression of how our business genuinely is, the friendly, committed people, the knowledge and the contacts to make experiences happen.
Through our recruitment processes, personal development plans and our corporate social responsibility work worldwide, we present the best of ourselves. It is about having the best people who will create opportunities for clients and make a real difference to workforces and communities.
Scotland is historically known for its business acumen and ingenuity. With all the modern-day noise of business and 24/7 news channels, we can forget this is still the case today. Ground-breaking innovations remain part of Scotland's offerings to the world – we are not all about pretty landscapes, we are hard-working, determined and a nation of problem solvers.
The number of patent applications filed from Scotland and received by the European Patent Office over the last three years has consistently been around 250. Growth areas include computer technologies, mechanical components, engines, pumps and turbines. For Orion, this signals steady employment and an increase in recruitment opportunities in the industries we specialise. It is up to us to ensure our people are briefed and constantly alert to changes.
We are active with our corporate social responsibility at home and abroad. As an independently owned company we can be more flexible than most with where we chose to donate or work with communities. In Scotland, our chosen charities have included Highland Hospice, Maggie's Highlands and MND Scotland. Worldwide, we have opened our doors to partner organisations in Papua New Guinea and in the suburbs of Houston supporting a homeless charity network.
We value all our employees and recognize them as important custodians of the Orion name and business tourists in locations as diverse as the USA, UAE, China, Australia and Vietnam. Their roles in building relationships and showing the world what we can offer from a proud Scottish business are crucial. So, that is why everyone should respect the influx of tourists to our own country – we never know where a conversation will lead.
And talking about proud Scottish business, what about the merger!!
Aberdeen Asset and Standard Life are merging the combined group's new name would incorporate both its name and that of Aberdeen's and be headquartered in Scotland! Its two chief executives – Martin Gilbert from Aberdeen and Keith Skeoch from Standard Life – will be co-bosses of the new group. The deal would create Europe's second largest fund manager with £660billion in assets under management. Wow!
So congratulations to co-columnist Martin who, if he ever gets time for a game now, is more than welcome to Castle Stuart as my guest in the hope that some of the sparkle dust rubs off. What an example he is.
Alan Savage is chairman of the Inverness-based Orion Group, a Highland philanthropist and a former chairman of SPFL club Inverness Caledonian Thistle.