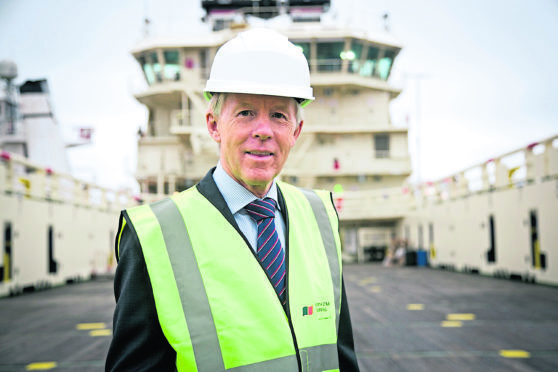 Douglas Craig is chairman and managing director of Craig Group
Aberdeen is recognised as one of the most enterprising cities in the UK. Indeed, recent statistics from Elevator, the social enterprise which fosters and promotes entrepreneurship in the region, underline this.
Our ingenuity can be seen in the many inventions and brands to come out of the Granite City, from the iron lung to the MRI scanner to the self-seal envelope and to the creation of brands such as Buick, Forbes and even Mashable.
But much of today's enterprise in our region stems from the pioneers in the early 70s and 80s who set up businesses to meet the needs of the emerging oil and gas industry.
This is where Craig Group started its journey towards becoming a global oilfield services company.
Yet the story started long before oil and gas were discovered in the North Sea. My grandfather, George Craig, founded a fishing company in 1933 and built it to become one of the largest in the region.
As fishing began to decline, my father, the late David Craig, spotted the opportunity to convert the fishing fleet into vessels which could support oil and gas exploration and production operations in the hostile North Sea.
When I joined the business in the 70s, we had a well-established fleet of offshore support, emergency response and rescue vessels and were starting to explore other opportunities. Diversification became the name of the game, both into other, complementary activities and into new geographical regions.
With our rich maritime heritage, we successfully grew, organically and by acquisitions, adding oilfield procurement, mooring and anchoring capabilities, and even subsea electronics to our portfolio.
An opportunity arose to divest some of the divisions of the group and we consolidated on our core business of shipping and oilfield procurement.
Recently, we sold North Star Shipping and are now focused on growing Craig International, our global procurement business, and exploring other opportunities.
Our story mirrors that of other global companies with their roots anchored in Aberdeen.
But what drove us and others to build businesses of scale? What makes a successful entrepreneur?
The mindset of an entrepreneur is often described as "a relentless drive to do better". It's about openness, the work ethic, resilience and confidence.
And if you dig a little deeper, it can be seen through an intense passion for work and tackling challenges; a relentless curiosity; the ability to be comfortable with failure and to learn from it; the ability to manage risk; and, lastly, a willingness to challenge the status quo when required to identify new opportunities or better approaches.
It's also, of course, about creating wealth, not just for yourself and your family, but in the economy, through the jobs created and the taxes paid.
But it's also in the drive for social change and the desire to make a difference. Corporate social responsibility plays a big part in making successful enterprises.
Our local entrepreneurs have contributed a significant amount to our way of life in Aberdeen, from support for local charities, the arts and sport to an overall contribution to the economic development of our region.
This is why enterprise is so crucial and why it's vital to have an environment that fosters and promotes entrepreneurship.
We're fortunate in Aberdeen to have both: a supportive eco-structure, but also that spirit of enterprise which is behind so many successful businesses. From the recognisable names of Sir Ian Wood, Martin Gilbert and Stewart Milne to the less well-known but up and coming entrepreneurs, we can boast plenty of national and international brands.
However, we must not be complacent, we must continue to nurture tomorrow's enterprising leaders and, above all, we must celebrate their success.