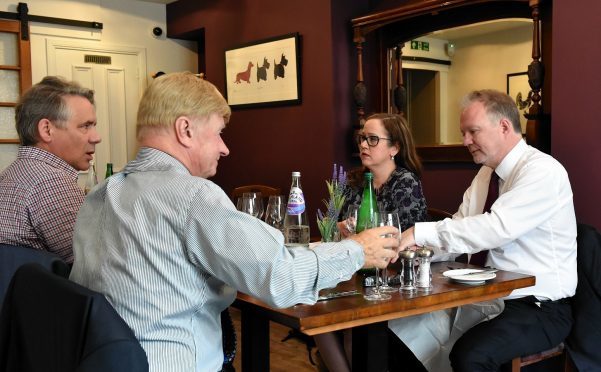 It has been a few weeks since the UK voted to leave the European Union, and there are still more questions than answers about what happens next.
For businesses, issues of employment of EU nationals, the threat of trade barriers in Europe – and even if Stornoway black pudding will keep its special designation – are up in the air.
So a group focused on the interests of businesses in times of political change have come together to discuss, if not the answers, then at least some of the key questions that must be addressed to ensure that the economy can continue to thrive as the UK prepares to begin negotiations on its shape of relationship with Europe.
The private dining room at Howies in Aberdeen city centre provides a discrete venue for an engrossing conversation – accompanied by food that is both wonderfully presented and yet comforting.
Michael Dean is a partner of law firm Maclay Murray Spens (MMS). As head of the firm's EU, Competition & Regulatory practice he has been working for decades on a wide range of regulatory issues affecting the UK's closest trading partner.
"We are where we are, but nobody knows where that is," he says, a succinct summing up of how most people feel post the referendum."
John Cooke, founder, of political risk consultancy Marshall Cooke, has spent his career guiding policy issues for firms in a wide range of sectors. For lunch, he has chosen the main course serving of the haggis, neeps and tatties after his chicken liver parfait starter. That and a cheeky glass of tempranillo seems to hit the spot.
He believes those looking to find out what changes might be coming on the horizon, the short answer is likely to be "not many" – which might end up disappointing those who believed they were voting for change, particularly in shape of much maligned EU regulations.
"Only 15 to 20% of UK legislation actually derives directly from the EU. The idea that small businesses will be freed from red tape doesn't stack up," he says.
"If the UK wants access to the single market on reasonably good terms, the only way the EU will let it have access is to meet a lot of our regulatory frameworks.
"Having spent maybe 60% of my career in a PLC environment, FTSE 100 firms should be doing some scenario planning trying to work out what the implications are.
"There are things you can work through that have a sector specific impact. For example, a weaker pound will help exporters and damage importers all things being equal. A weaker pound makes foreign holidays more expensive, therefore more people holidaying in the UK, either within the UK or coming from elsewhere."
Andy Willox, the Scottish Policy Convenor for FSB Scotland, has finished his starter of haggis and digs into his battered fillet of North Sea haddock. The half-sized fillet is still a satisfyingly generous.
Mr Willox has over around 19,000 members in Scotland on his books, all of whom are unique in their business models – which means it is difficult for one size of policy to fit all.
"There is a lot of evidence that even exporters won't do well because they import a lot of the stuff they export. A small percentage are going to do well," he says.
Ahead of the Brexit vote, FSB members reported a sharp drop in business confidence. And Mr Willox finds the post-vote clamouring for certainty over EU funding and access to the single market as a bit rich.
"It is like saying to the RAC I don't want membership anymore then calling them out to rescue your car the day after," he says.
But he does have his finger on the pulse of what businesses want.
"We do want access to that single market. We do want movement of people. The tourism industry is worth £10billion a year to the Scottish economy. That is hugely supported by people from Europe.
"The third thing is the projects. You have European backing major infrastructure projects. A lot of that comes to the Western Isles as well.
"A lot of our members are micro businesses, a lot of them are rural and remote, they are selling fish to Europe, technology. There are 19,000 businesses. A third of those will be working with a European client base. They want to know – is it still possible to have those clients in two and a half years time? Most of these people are blind. They don't know what is going to happen."
Arguably it was after the referendum when strength of feeling feelings in favour of the EU was galvanised. For the last five years and in the wake of the banking crisis, Europe struggled with its currency, its banks and having to bail out Greece leading to arguments that in order to survive it must forge a ever closer union. Brexiteers argued that leaving the EU sooner rather than later would allow the UK distance itself from what some perceive as a downward spiral, and that it would be worth short term market turmoil to achieve this. Will this be the case?
Mr Dean is unsure: "Like someone said of the French Revolution – it is too early to tell.
"Maybe it will benefit some, but not all. The truth of the matter is lots will suffer, some will do very well – maybe. There is a big question mark over who will do well.
"Europe is a bit of a basket case. I don't know anyone – unless they are living in the Brussels bubble – who thinks it is all going smoothly.
"If you think xenophobia is bad here, you should see Eastern Europe. There is an issue for communities who have an influx of workers. The conditions are being created where people are almost not being paid anything.
"The EU mechanisms are not great, they way they have left Greece and Spain. 50% unemployment is not acceptable.
"What Europe needs is leadership – the pragmatic business-like approach of the UK goes with the ideological approach of the continentals.
"I was thinking about what mattered, and why we have the European union. For most people growing up it has always been there – a good old Aunt Sally to complain about and for politicians to blame. Why is it there? For European security, which is absolutely fundamental.
"I was at the anniversary of the Somme in WW1. We think 'never again' – unless we have to put up with weird-shaped bananas. We have taken back control of our bananas.
"Evenly more fundamentally, I don't trust the UK as a thinking institution.
"You wouldn't run a bowling club the way the UK is being run."
Mr Willox too wonders what emphasis the UK might put on spending priorities.
"At the end of the day there is money that would have normally gone to Europe that will stay in the UK. How trusting can we be in the Westminster government that the fishermen and the farmers will get this money? Wales is thinking this way, too."
Mr Dean adds: "I don't trust UK institutions to even think in regional terms.
"There is no regional policy – it was kicked into touch in the Thatcher/Tebbit era.
"Can anyone really believe that there will be a cohesive plan for infrastructure that makes us unitary islands? Whereas the European commission thinks 30 years ahead."
Mr Willox says: "If you look at the fishing industry there has always been issues with discards and other rules. But there has been new quays – there is a huge amount of infrastructure going into some of these communities.
"Knowing how long we have waited for some of the stuff up here like AWPR – I don't know how long they would have waited to get that."
Mr Cooke adds: "One of the groups I feel really sorry for are the fishermen. They have really suffered under the Common Fisheries Policy and as a section of society they voted overwhelmingly to leave. If we do Brexit, and we get into a negotiations, are they going to say to Brussels: 'we'd like access to the single market on the same terms we have now, and one of the first priorities is the fishermen of Peterhead and Fraserburgh'? Call me a cynic, but… The fisheries have always been a sacrificial pawn."
Mr Dean goes onto explain that there are significant differences between free-trade and a single market.
"It is not just tariffs, you have customs. Selling to Norway you still have customs procedures which is delay – these are the non-tariff barriers we forget about out. There are licenses, quotas, traditional speciality guaranteed products. Non-tariff barriers keep getting ignored. So many of them are quite complicated."
For Scottish products, such as Stornoway black pudding, Scotch beef and lamb – which have a special EU designation that adds value – there is further uncertainty.
Mr Cooke says: "You raised geographic indication protection – one would expect that to continue under a Brexit scenario – but you have to put a question mark over that."
Mr Dean says: "Let's say in 10 years time the European Union decides to have another review of what is protected. We quite like French brandy – but whisky is the same as Japanese whisky."
There is also an issue about what happens when the UK decides to trigger article 50 – the piece of EU legislation that governs the departure of a member state.
Mr Dean sees issues with the possibility of full agreement of all 27 states as fluctuating geopolitical forces take hold.
"Imagine a state in Eastern Europe that is also a bit anti-European and may be anti-British and may be, by tradition and links in the economy, much more pro-Russian – just to stick another spoke in the wheel. They will say no," he says.
"Article 50 is simply a countdown process to being pushed over the edge of a cliff.
"The inevitability of the end of that is the treaties fly off. If you think now is uncertain, it would be regulatory Armageddon at that point.
"I don't think the UK government would want that. That is why they want to delay. They need to get a team together and get a plan together."
Of course the option currently being considered in Scotland is that it might remain in the EU – with the likelihood that this will require another referendum on Scottish independence.
Mr Cooke says: "I never say anything is certain but a second indy ref is highly probable, and that the outcome is a yes vote."
Mr Dead adds: "I agree with you.
"Politically things have changed – you can't think of anything more enormous than leaving the European Union.
"There is a political justification for a referendum. We didn't vote for staying with a UK that comes out of the European Union. Secondly the economic base rationale is we can be the place that everybody passports through.
"To be the part of the former UK which retains the single market makes a base that if you are an American you can sell into Europe. It can be a massive economic opportunity."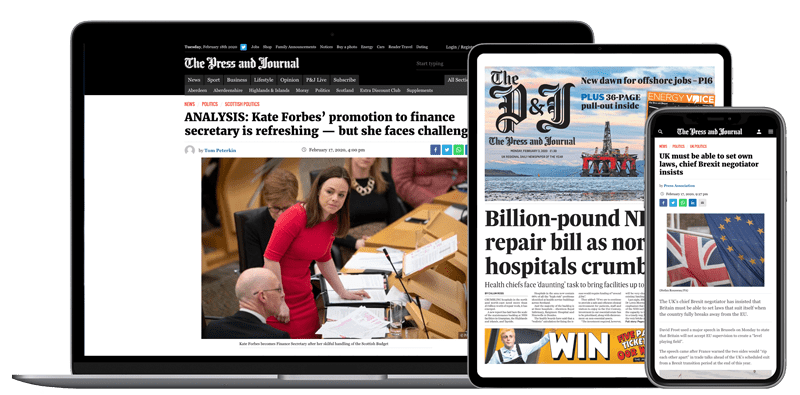 Help support quality local journalism … become a digital subscriber to The Press and Journal
For as little as £5.99 a month you can access all of our content, including Premium articles.
Subscribe