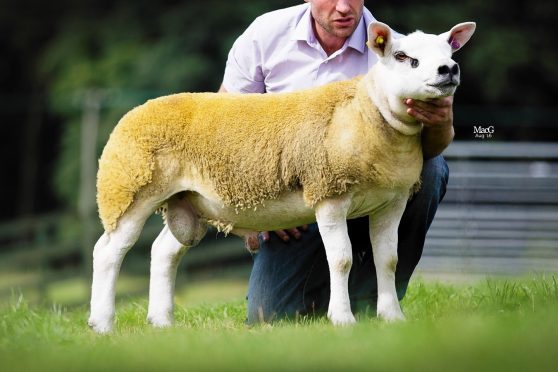 Texel ram lambs proved popular at the Scottish National show and sale at Lanark selling to 70,000gn, with a further 15 lots reaching five-figures.
Overall, some 351 lambs sold to average £2,812.24, an increase of £500 on the year, but for 33 fewer sold.
Bids came easily for the best lambs on offer but for the commercial end, buyers were selective, according to Lawrie and Symington auctioneer Brian Ross.
"Commercial lambs had to be right, but decent lambs with good tops, ends and skins were easily making 400-1,000gn," said Mr Ross.
Top price of the day came half way through the sale, with Teiglum Young Gun, from brothers Alan, Andrew and David Clark, of North Garngour, Lesmahagow, soaring to 70,000gn. He sold to the Procters flock, managed by Jeff Aiken at Wennington, Lancashire, and Charlie Boden's Sportsmans flock at Stockport.
This one's dam has had a memorable year, taking the breed championship at the Royal Highland and the inter-breed sheep title at the Great Yorkshire. His sire, meanwhile, is the home-bred Teiglum Windfall, which was sold to Tom and Ian Walling at Selkirk for 2,600gn and then used on loan by the Clarks, to flush two gimmers.
Much later in the day, the Buchan family – Brian jun and sons Gavin and Calum, of Clinterty, New Aberdour – had plenty to celebrate, when they received 60,000gn and 52,000gn for their best two lambs.
A team of eight buyers forked out 60,000gn for Clinterty Yuga Khan, a son of the 32,000gn Tophill Wall St, out of a ewe by Ettrick Smasher. He now joins the Midlock, Ettrick, Knap, Auldhouseburn, Scrogtonhead, Haymount, Haddo and Carlinside flocks.
The other, Clinterty Yogi Bear, also by the Tophill tup, sold at 52,000gn to Charlie Boden, Sportsmans. He is out of the best breeding ewe in the flock, a Clinterty Par One daughter.
Huntly breeder Jim Innes, of Dunscroft, enjoyed a strong trade for his Strathbogie consignment, with no fewer than four hitting five-figure prices. Top there was Strathbogie Your Tupped, a son of Glenside Wild Boy, out of a ewe by Strathbogie Untouchable. He went at 42,000gn to the Campbells' Cowal flock at Drimsynie, Lochgoilhead, and Bruce Renwick, Castlecairn, Kelso.
Next in, Strathbogie Ya Belter, reached 35,000gn, to the Procters flock, along with Will Davies, Uskvale, Wales. A second prize winner at this year's Highland Show, he is by Millar's Windbrook and out of a Glenside Razzle Dazzle-sired ewe.
Meanwhile, others by the Glenside sire sold at 12,000gn and 11,000gn. The dearer of the two, Strathbogie Yolo, sold to Archie Hamilton's Smyllum flock at Lanark, while the other, Strathbogie Yabba Dabba Doo, went to three Irish buyers, Rodney McLaughlin, Clonmany, and John Greene and R. Docherty, both Co Donegal.
First to hit five figures was the pen number two from Harry and George Wilkinson's Cumbria-based Arkle flock – Arkle Yingyang, which reached 32,000gn. A son of the 4,500gn Brackenridge Underdog and out of a show ewe by Cambwell Rob Roy, he was knocked down to three north-east flocks – Kenny Pratt's Hilltop flock at Peterculter; Albert and George Howie's Knock flock at Stuartfield; and Brian Buchan, Clinterty, New Aberdour.
The Wilkinsons – who run 250 pedigree ewes between their Arkle and Ellen Valley flocks – had more to celebrate when their next lamb, Arkle You Bet, sold at 20,000gn to Jim Innes, for his Strathbogie flock and Stuart Barclay, Harestone. He is by Halbeath VIP and out of a ewe by Finevalley Triple Crown.
The Wight family, Midlock, Crawford, received 24,000gn for Midlock Yorkie, a Deveronvale Warrior son, out of a ewe by Teiglum Thunder. Joint buyers for that one were Robin Orr, Halbeath, Dunfermline and the Wilkinsons, Arkle and Ellen Valley.
Another hitting the 20,000gn mark was the best from Robert Cockburn's Crieff-based Knap flock, Knap Yeah Ram. A Tamnamoney Ultimate son, he is out of the same ewe that bred the 145,000gn Knap Vicious Sid. Buyers were Archie Hamilton, Smyllum; Kerr Jarvie, Duncryne, Crieff, Cammy Gauld, Cairnam, Crieff; Archie and John MacGregor, Allanfauld, Kilsyth; and Jam Robinson, Kaker Mill, Lancaster.
Meanwhile, a full brother to that one, Knap Yorkie, sold at 12,000gn, to James Hair, Drumbredden, Stranraer and I. and L. Galloway, Glenart, Clantibuies.
Best for Charlie Boden's Sportsmans flock from Mellor Hall, Stockport, was a 16,000gn bid for Sportsmans You're A Winner, a Strathbogie Wiplash son out of a 9,000gn Cowal ewe by Cairnam Talisman. He sold to Northern Ireland buyer John Leitch, Castlederg, Co Tyrone.
Albert and George Howie, West Knock, Stuartfield, were in the money, selling their pen number one at 15,000gn. This one, by Tophill Wall St and out of a Sportsmans Supreme daughter, sold in a four-way split to the Clark family for their Garngour, Teiglum and Clarks flocks; Andrew Neilson, Brackenridge, Strathaven; Robert and Willie Fleming's Mossknowe flock at Hillhead, Kirkpatrick Fleming; and Keith Jamieson, Woodhead, Annan.
Another from the north-east, Robbie Wilson, sold to a top of 13,000gn from his Turriff-based Milnbank flock. Milnbank Younique, a son of the 16,000gn Glenside Willy Nilly and out of a ewe by Teiglum Tornado, sold to Ruth Mitcheson, Boland Lake House, Belsay, Northumberland.
The Campbell brothers – Keith, Allan and Roy – from Drimsynie, Lochgoilhead, forked out 14,000gn for their pick of the day, Claybury Yosemite, a Stainton Vantage II son from James Draper, Montford Bridge, Shrewsbury.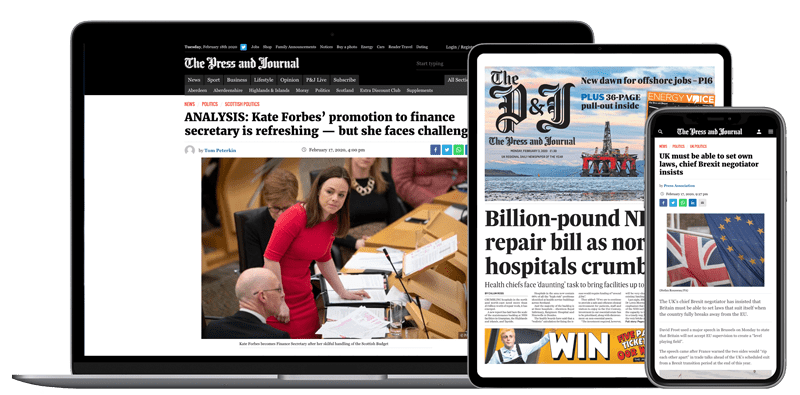 Help support quality local journalism … become a digital subscriber to The Press and Journal
For as little as £5.99 a month you can access all of our content, including Premium articles.
Subscribe