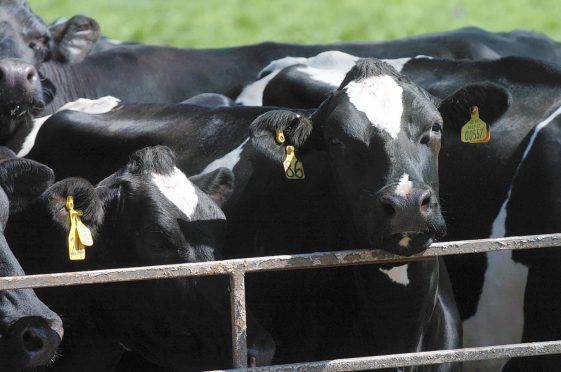 A striking contrast in the profitability of Britain's dairy herds has been revealed in the latest analysis of milk producers by specialist farm accountants, Old Mill.
According to the company, which looks after 1,200 farmers, average dairy farm losses are set to continue and even deepen in the 2016-17 financial year, which means the gradual increase in milk prices over the last few months won't be enough to turn around the industry's fortunes.
However figures showed a marked difference between the top and bottom 25% of producers.
Production costs among the lower quartile were 33.87p/litre, against 22.84p/litre in the top 25%. Feed costs were 2.02p/litre higher and power and machinery expenses were 3.34p/litre higher.
The bottom 25% also received 2.29p/litre less for their milk, at 25.01p/litre which meant they made a loss of 5.65p/litre in 2015-16 compared to the top quartile's average profit of 8.75p/litre.
The West Country-based company calculated that UK dairy farmers lost an average 2.71p/litre in 2015-16 and are set to lose 2.81p/litre in 2016-17.
Andrew Vickery, Old Mill's head of rural services, said it was encouraging to see that even in tough times, the UK's top dairy farmers are still managing to make a profit.
"All producers have looked hard at their cost base and found ways to reduce expenditure. However, while many have improved efficiencies, there is now very little meat left on the bones for any further cost reductions," he said.
Based on analysis of clients' accounts with a March 2016 year-end, and working with the Farm Consultancy Group to predict future trends, Old Mill calculated that milk prices averaged 26.34p/litre in 2015/16 and will only rise to 26.50p/litre in 2016/17. That compares to an average cost of production of 29.05p/litre and 29.31p/litre, respectively.
Mr Vickery warned that cash flow was one of the most significant issues facing producers.
"That's why it is important to look forward and plan ahead rather than focus solely on past data," he added.
According to Phil Cooper, partner at the Farm Consultancy Group, farmers should focus on cutting feed costs by making better use of forage.
"Other key issues include vet and medicine costs, labour, machinery and contracting expenses, and insurance," he said.
Meanwhile four top Scottish holdings are set to go head-to-head in the last stage of the AgriScot Scottish dairy farm of the year competition.
The top four farms in contention for the award are: William Hamilton & Son, Meldrum, Blairdrummond, Stirling; A Colquhoun Ltd., Dendoldrum, Inverbervie; K & I Millar & Sons, Trailflat, Lochmaben, Lockerbie; and the University of Edinburgh, Langhill Farm, Roslin, Midlothian.