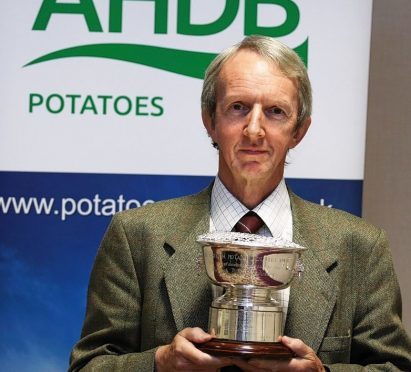 An Aberdeenshire farmer was last night recognised for his outstanding contribution to the potato industry.
Jim Cruickshank, of Westerton of Folla, Inverurie, is the recipient of this year's British Potato Industry Award.
The award, which is presented by sector levy board AHDB Potatoes, is presented to an individual for their outstanding contribution to the industry.
AHDB Potatoes strategy director, Rob Clayton, said: "Jim Cruickshank is held in extremely high regard by all of his colleagues in the potato industry, both for his skills as a farmer and his efforts to safeguard the sector through work with industry bodies and researchers on potato health and quality. He is an incredibly deserving recipient of the British Potato Industry Award."
Mr Cruickshank was brought up on a mixed farm in Aberdeenshire, and after completing a degree in maths he returns to his agricultural routes and embarked on more studying, this time in agriculture, at the University of Aberdeen.
After graduating he bought a 150-acre farm where he had 30 acres dedicated to seed potatoes. The business has expanded to around 1,000 acres with between 250 and 300 acres used to grow early generation seed.
Mr Cruickshank produces seed for further multiplication by other commercial producers.
He said: "I have always tried to listen to my customers, and be really open with them, because if we understand each other's requirements and difficulties we can work far better together. If our customers aren't profitable then we won't be either, so it makes sense to ensure they get what they need from us.
"That is one thing I have learned from my time sitting on various industry bodies, I have really developed my understanding of the whole supply chain, which is crucial as just one weak link can make everyone else vulnerable."
He is currently a board member of north-east farmers' co-operative ANM Group, and in the past was chairman of the Pre Basic Growers Association and vice-chairman of the Potato Marketing Board.
Pre Basic Growers Association secretary, Bill Rennie, paid tribute to Mr Cruickshank and said he was "an outstanding farmer, and an innovative one".
He said: "He studies the latest research and development and applies it to his own farm, and he has always been willing to share his knowledge with other growers. He also welcomes visitors from around the world who are keen to see his high quality business operation in action; his farm has long been an important showcase promoting high quality UK seed."
Mr Cruickshank's eldest daughter, Sarah, who works alongside him on the farm, also paid tribute and said her father's passion for the industry had persuaded her to join the family business.
Upon receiving his award, Mr Cruickshank said: "I'm aware of the many great people who have won this award before me, and I am honoured to be in their company."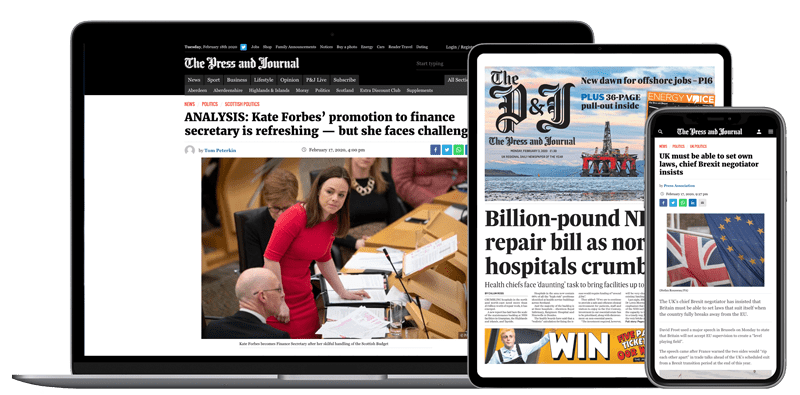 Help support quality local journalism … become a digital subscriber to The Press and Journal
For as little as £5.99 a month you can access all of our content, including Premium articles.
Subscribe