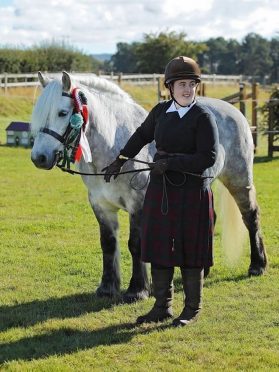 Sarah Macintosh and her Highland pony, Lochewe Magnus, pictured above, have achieved a string of successes during 2016.
Sixteen-year-old Sarah and her eight-year-old grey dun gelding, Magnus, achieved Best Ridden Novice Highland Pony at Angus Show and Ridden Champion Highland at New Deer Show, Banchory Show, Keith Show and Tarland Show. The combination also enjoyed successes at riding club and in dressage while they focus on the aim of the Royal Highland Show and Blair Castle in 2017.
Miss Macintosh said: "I've had a fantastic year – Magnus and I can only prepare for our showing at home in fields and on the roads as we have no facilities to train in. I have only owned Magnus for just over a year and he has been amazing. I hope we can get to the Royal Highland Show 2017 and who knows maybe even the Horse of the Year Show at some point in the future."
The youngster is also producing other ponies which she hopes will be as successful as Magnus and is set to continue to expand her string of youngsters.