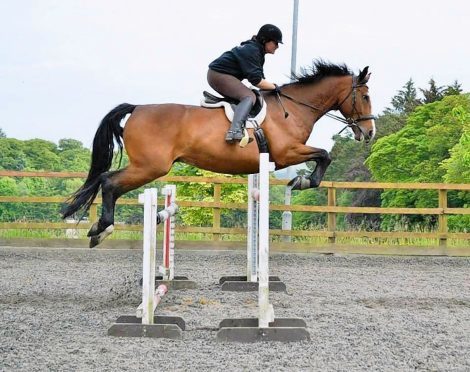 Each month we talk to a local or visiting riding coach and instructor. This month we met Sally McCarthy, manager of Aberdeen Riding Club, who has been teaching local riders of all ages and abilities for over 20 years.
Tell us a bit about yourself (qualifications, background, competition record etc).
I didn't start riding until I was 13 as my family were not horsey at all – I finally got my own horse aged 27. My background is in the riding school/livery industry and I hold my BHS I.I. and Stable Managers certificate. I left school at 16 to work on a dressage yard in Portugal before returning to the UK, where I started coaching. I have done a bit of competing in each discipline, but it was difficult for me as I didn't have my own horse and as I developed as a coach, I was more in demand at weekends and in the evening. Coaching has always been my priority and I wouldn't change a thing about how my career has been shaped – I still ride and produce young horses when time allows.
How long have you been teaching and how did you get into teaching?
I've been coaching for 24 years – I chose horses over university as while I was academic enough, I would have been up at the stables all the time instead of studying. I've always been interested in making riding more accessible so coaching, particularly in a riding school, was a natural step. I think that riding schools should have some of the most experienced coaches as they play a really important role in the grass roots development of our sport.
What do you most enjoy about teaching?
Variety – I teach all standards from young beginners in the riding school through to competition combinations and I love seeing that sense of achievement in riders when they do something – whether it be managing rising trot for the first time, or winning their class out competing.
Giving something back – I'm really lucky in that the success of Aberdeen Riding Club (ARC) means that I now get to provide funded lessons for kids in the area who really benefit from it. Seeing the difference a riding session makes to some kids and adults makes for massive job satisfaction.
What are your top three pieces of advice for your pupils?
Look up – it improves your feel and you're more likely to stay on the horse!
Ride without reins and/or stirrups as often as possible.
Have the best horse for the job – whether it be a riding school horse or private one. The wrong horse tends to be expensive and a bit soul destroying!
Do you use any methods when teaching?
It completely depends on the rider and their psychology. I'm fascinated by rider psychology and what makes people tick. A good coach needs to be able to identify with their pupil and put the information across in the way that works best for that individual. There are so many different learning styles and different personalities – a coach needs to be able to adapt quickly to each individual. In one day, I can be teaching a nervous adult, a teenager, a five-year-old child, a livery preparing for an event and several group lessons – I would approach each lesson differently to accommodate each personality/learning style.
What are your future plans?
I'm involved in a massive project at the moment designing a purpose built new facility for ARC and while the project is exciting, it's exhausting as I am doing it alongside my day job of managing ARC. My plan for the next 12 months is to get the project finished and continue teaching as much at ARC. I'm also coaching at a couple of event camps (organised by David Lawson Equestrian Events) which I enjoy and will be training Deeside Pony Club's interbranch riders again this year, which I also enjoy as I was never a pony club kid.
Longer term, I want to keep developing ARC and make sure that the new facility becomes something that the whole area can benefit from in the future. We need good riding schools and livery yards in the north-east and I hope that the new ARC facility will continue to keep making the sport more accessible to all.