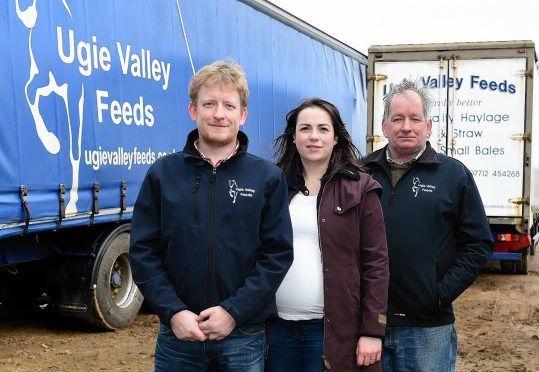 Making hay while the sun shines is the name of the game at Ugie Valley Feeds.
Based at Mains of Buthlaw, near Peterhead, the business is run by Fraser Mackintosh in partnership with his wife, Helen, and his parents Jim and Allison.
The family has long provided haylage and hay to the local market, however this became a full-time business focus seven years ago when Ugie Valley Feeds properly took off. Last year the firm produced 50,000 small bales of hay and straw, and 30,000 packs of haylage.
All deliveries are carried out by Fraser and Jim, and the business also employs one full-time member of staff.
The farm stretches across 800 acres, with a further 400 acres contract farmed and additional ground taken each year through seasonal grazing agreements.
About 500 acres of grass is mowed each year to produce high-quality hay and haylage, predominantly for the equine market.
The farm also grows oilseed rape for cold pressed rapeseed oil company Mackintosh of Glendaveny, which is run by Fraser's brother, Gregor, from the farm at Mains of Buthlaw.
Fraser said an Italian ryegrass mix is ideal for the company's needs – with haylage requiring a minimum of four to five days drying time and hay at least a week.
Good weather is crucial for the business and during ideal cutting conditions the company can be running up to eight balers in tandem. "We go for one good quality cut. Quality is paramount," said Fraser.
Over the years the company has invested significant sums of money in specialist machinery – this includes the purchase of baling machine known as the Bale Baron.
This Canadian-made machine, which is the first of its kind in Scotland, is used to pack 21 conventional small bales into one, easy-to-handle bale. The company uses the machine to handle both hay and straw bales.
"It helps eliminate wasted space, reduces manual handling and makes loading trailers easy and quick. It means we can load an artic lorry in half an hour with 600 small 20kg bales," said Fraser.
"We have recently started stocking customers in Orkney with our 21 packs and our longstanding customers in the Shetland Isles are also finding the packs revolutionary in terms of time and space saving."
Another key piece of kit at the farm is a Ken Mills haylage machine, which vacuum packs haylage into 20kg bags, weighing each bag for consistency.
Fraser said maintaining weight consistency was especially important for racehorse customers, as they feed their animals very specific rations of food.
The machine pulls in Hesston bales of haylage, which can be stored for up to a year, and takes them apart before packing them into individual bags.
Another key investment at the farm, totalling nearly £100,000, was the erection of two 295kW biomass boilers last year to power a new 100-tonne batch grain drier.
Fraser said installation of the boilers would eliminate the use of kerosene in the grain drying process, as the boilers will be fuelled with straw produced on the farm.
"In future years we will complete the final stages of drying our hay on the drier trays," he added.
"This will increase the quality of the hay and escalate efficiency for us."
On future plans, Fraser said improving efficiency and growing the customer base were key focuses for the business.
He and wife Helen are also looking forward to welcoming the next generation to the farm at Mains of Buthlaw – the couple are expecting their first child later this year.