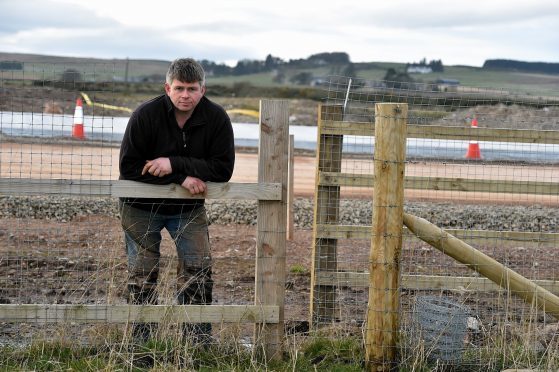 Farmers have branded fencing and field access around the new Aberdeen City bypass project "a disgrace" warning it may pose a road safety risk in future.
According to NFU Scotland regional chairman for the north-east, Davie Winton, the fences being erected alongside the new Aberdeen Western Peripheral Route (AWPR) road are unlikely to be strong enough to keep livestock penned in.
"The fences being provided are a disgrace, fall a long way short of being stock-proof and that has huge issues for the safety of road users in the future," said Mr Winton, who farms at Haugh of Birse, Aboyne.
He accused Transport Scotland of adopting a "cheapskate approach" to fencing and said fears over the quality of fencing provided may even lead to some farmers being unable to put their animals outside this spring.
One farmer affected by the problem is Iain McPherson, who farms 200 acres at Broomhill Farm near Netherley, Stonehaven.
Mr McPherson, who lost 11 acres of the farm to the bypass project, has been plagued with problems getting access to a shed of cattle at a nearby farm.
He said AWPR contractors were not allowing him to pass over the road and instead expecting him to access the shed through a neighbour's farm.
"They (AWPR) did supply an underpass but it is still not ready for use," said Mr McPherson.
He said the fencing supplied was only designed to hold back badgers and otters, and the cattle would be able to flatten it easily.
The lack of barbed wire on the fence also meant his cattle were at risk of losing vital ear tags.
"It's a hassle we don't need," said Mr McPherson. "It's in their (AWPR) best interests for that fencing to stay as good as possible but there's a fear it won't hold everything in."
The union's regional manager, Lorna Paterson, said dozens of farmers were also facing problems with access to water and stock as a result of the bypass works.
She said: "Underpasses, which are often the only practical route available for farmers to tend to animals, are unfinished. There are animal health and welfare issues in some cases where access to water in fields is limited, and human access to tend to beasts is extremely challenging."
Scottish Conservative rural affairs spokesman and north-east region MSP, Peter Chapman, backed the union's concerns over the fencing.
He called on government to help farmers awaiting compensation for damage caused by the AWPR project and said they should not have to pay to upgrade the fencing.
Gerald Banks from Davidson and Robertson Rural's Maud office said farmers and their agents were being passed from pillar to post when trying to claim for damage to land.
Mr Banks said: "It's unreasonable, but without expensive legal action, landowners have little choice but to put up with things."
Aberdeen-based independent consultant James Dick agreed and said: "I think the contractors are under pressure to deliver a road, and distractions from landowners and occupiers are seen as such, stopping them doing their job properly. That is definitely not the case, and it is solvable."
A spokesman for Transport Scotland said the contractor for the AWPR project – Aberdeen Roads Limited (ARL) – was liaising directly with landowners and residents to ensure any impact as a result of the construction works was minimised.
He said: "ARL is currently in discussions with a number of landowners regarding access to their land to enable them to carry out various works including the erection of temporary and permanent fencing. We are aware that some issues remain outstanding and we have been assured by ARL that these will be brought to a resolution as quickly as possible.
"ARL has set up a helpline for project related enquiries and we would encourage any individuals with concerns relating to these works to contact the Community Liaison Team on 0800 058 8350."