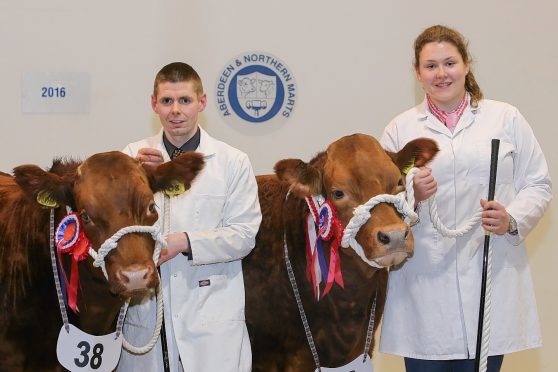 Young farmers from across the north and north-east will descend on Thainstone next week for Aberdeen and Northern Marts' 25th annual show and sale of young farmers' overwintered cattle.
The competition, which is sponsored by law firm Ledingham Chalmers, has attracted 53 entries from young farmers' club members aged between 14 and 30.
The stock on offer was purchased by the entrants at the autumn sales at Thainstone, before being reared over the winter months in preparation for the show.
This year's show will comprise 25 steers and 28 heifers.
The judge for the classes and champions is Graham Easton, of The Ranch, Letham, while the judge for the best presented and paraded animals is Harry Brown of Auchmaliddie Mains, Maud.
To mark the 25th anniversary of the event a new trophy – The Calladrum Cup – has been introduced to emphasise the commercial aspects of livestock production.
The trophy and an additional £100 cash prize will be awarded to the winner of the best overwintered animal title. This is given to the entry that trumps the contests for highest feeders' margin, highest average daily liveweight gain, best presented and parade animals and best quality animal.
Aberdeen and Northern Marts auction operations manager, Alan Hutcheon, said: "Without our young farmers and events like these, we risk losing this industry in the years to come.
We strive to recognise young talent and showcase their knowledge and skills by putting them at the forefront of our competition programme."
At last year's event the champion title went to a 17-month-old 534kg Limousin cross heifer from Aileen Ritchie from Tamala, Burnside, Whitecairns. It went on to achieve the second highest price at the sale of £2,500.
A top price of £3,500 was paid for a British Blue cross heifer named Pick N Mix from Jack Hendry, of Heads of Auchinderran, Aultmore, Keith. Bought from D. Kennedy, of Whitegate, Tresdale, Canisbay, she was champion at the Rising Stars calf show before winning best overwintered heifer and best gross margin heifer at Thainstone.
Next week's show takes place on Thursday March 23 at 6pm followed by the sale at 10am the next day.