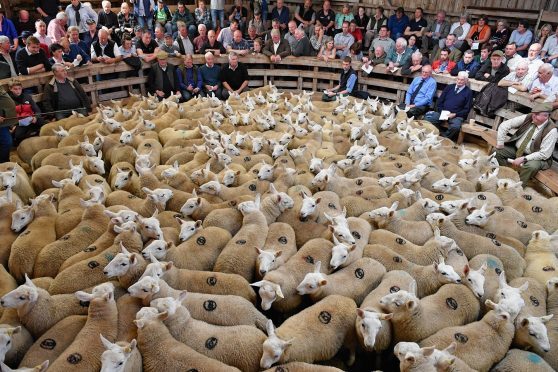 Scottish politicians and promotional bodies yesterday celebrated the publication of record food and drink exports worth £5.5billion in 2016, but the farmers' union was quick to point out the rewards were not being felt by members.
Just days ahead of the launch of a new Scottish food and drink strategy aimed at growing the sector to 2030, Rural Secretary Fergus Ewing posed with export organisation chiefs and described food and drink as "one of the standout success stories" of the economy.
He also used the opportunity to make a political point about the importance of retaining access to European markets which represent the largest export market, currently worth £2.3billion to the sector.
"We shouldn't have to face the choice between remaining as part of the UK and the EU single market," said Mr Ewing.
"The pursuit of a hard Brexit is a major threat to this success and these figures show why we must work to protect Scotland's place in Europe."
However in an online blog for members, NFU Scotland's (NFUS) chief executive Scott Walker said that few politicians would acknowledge that ordinary food producers were not enjoying the benefits of the increase in food and drink exports.
"The success of the industry is built around the quality of the food and drink produced and its strong Scottish provenance. And of course this is all underpinned by the farmers, growers and crofters of Scotland who are the start of the food chain," said Mr Walker.
He predicted the new Scotland Food and Drink strategy – due to be unveiled on Thursday – would be ambitious and added that the farming industry also needed to be ambitious as it looked to the future.
Mr Walker said: "Difficult decisions are ahead. Different paths may be chosen but the one that I would like is the one that sees Scottish farming and crofting grow. The path that leads to more being produced on Scottish farms and what we produce by being profitable.
"The likes of the Scottish Beef Efficiency Scheme could be transformed into a scheme that grows our industry; greening could become a measure that promotes the good environmental credentials of Scotland rather than constraining production; and new partnerships in the supply chain could deliver better financial returns to farmers."
Overall food and drink exports from Scotland grew by £421million in 2016, an 8% increase. Food exports alone grew by 22% to £1.5billion and Scotch whisky exports grew by £153million (up 4%) to over £4billion.