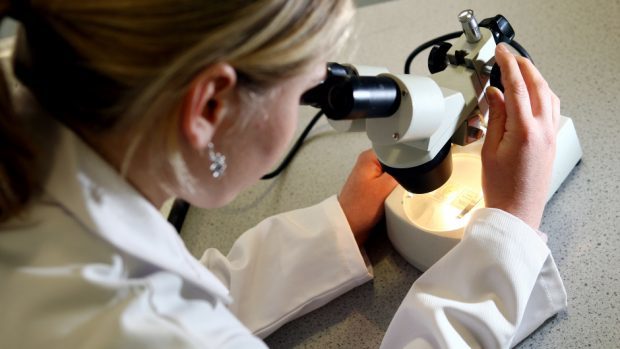 A £10million investment in a new biotech company on the edge of Edinburgh is expected to lead to better farm animal health and improved agricultural productivity.
The investment by private funders in the Roslin Technologies company is expected to see new veterinary vaccines and tools for diagnosing diseases that affect farmed animals brought to market.
The deal will also develop business opportunities that arise from the University of Edinburgh's animal science research and allow researchers to explore the commercial potential of technologies that enable low-cost manufacturing of new medicines using chicken eggs.
Roslin Technologies Ltd was launched in March last year to facilitate the commercialisation of research from the University of Edinburgh's Roslin Institute and Royal (Dick) School of Veterinary Studies. It is thought to be the largest agriculture biotechnology start-up in UK history to focus on research projects that aim to improve animal health. The £10million completes the initial fundraising round.
The Roslin Institute – which receives strategic funding from the Biotechnology and Biological Sciences Research Council – is located with the Royal (Dick) School of Veterinary Studies on the University of Edinburgh's Easter Bush campus. More than £200million of capital investments have been made in research facilities on the campus in the last five years, making it the largest concentration of animal science anywhere in Europe.
Professor Bruce Whitelaw, interim director of The Roslin Institute, said: "Having pioneered the commercialisation of animal biotechnology for three decades, the establishment of Roslin Technologies now provides an exciting platform to accelerate the translation of Roslin's data driven innovations into the commercial sector."
The chief executive of Roslin Technologies, Glen Illing, said there was an "incredible demand" for innovations that address productivity increases in agriculture.
He added: "This investment allows us to deliver a technology pipeline that spans across The Roslin Institute's core focus on food, environmental security and animal and human health."
Methods of preserving frozen stocks of reproductive material from bird species are set to benefit from the funding. Such technologies aim to safeguard the future of rare bird species, which may carry useful genetic information that makes them resistant to existing – and future – diseases.