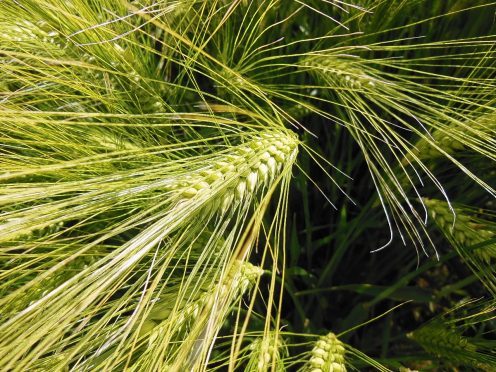 Arable giant Syngenta has launched a new hybrid barley variety which it claims is capable of delivering the highest winter barley yields in Scotland.
According to the firm's seed manager, Samantha Brooke, Hyvido Sunningdale has the top yield for the north region in AHDB's Recommended List for winter barley for 2017/18.
She said hybrid barley had grown in popularity in the past decade – around 25% of the total UK winter barley acreage planted is hybrid, representing around 260,000 acres.
"Hybrid crops can really produce from a yield point of view and they are a really good entry to oilseed rape," added Mrs Brooke.
"They are really competitive against grass weeds."
She admitted that Sunningdale, like other hybrid varieties, was more expensive to buy but said the increased yields it offered outweighed the initial costs.
Establishment costs for a conventional variety are estimated to be between £65 and £70 per hectare, while hybrid varieties incur an establishment cost of approximately £105 per hectare.
Mrs Brooke said data from Scottish trial sites over the past three years revealed that Sunningdale had achieved the highest average yield of 10.88 tonnes per hectare, which was 0.46 tonnes per hectare more than the second highest yielding variety Bazooka.
The average yields for the three most widely grown winter barley varieties in Scotland were – Tower at 9.77 tonnes per hectare, Glacier at 9.82 tonnes per hectare and Cassia at 9.5 tonnes per hectare.
Sunningdale is also said to boast earlier maturity – similar to Glacier – and good resistance to Rhynchosporium with a rating of seven on the AHDB Recommended List.
Mrs Brooke said the new variety was also capable of producing long straw with an average height of 107cm. This compares to 84cm for Glacier and 91cm for Tower and Cassia.
She said getting Nitrogen on the crop as early as possible, ideally at the end of February, was crucial and growers should also consider putting on a "slightly more robust T2" because of the larger canopy size.
Lastly, Mrs Brooke said data gathered by Syngenta had revealed an increased margin over a three-year rotation of £63.60 per hectare when growing oilseed rape after hybrid barley following winter wheat.
Average yields for oilseed rape after hybrid barley were also found to be higher at 4.21 tonnes per hectare, in comparison to yields of 4.13 tonnes per hectare after conventional feed barley and 4.02 tonnes per hectare after a second wheat crop.