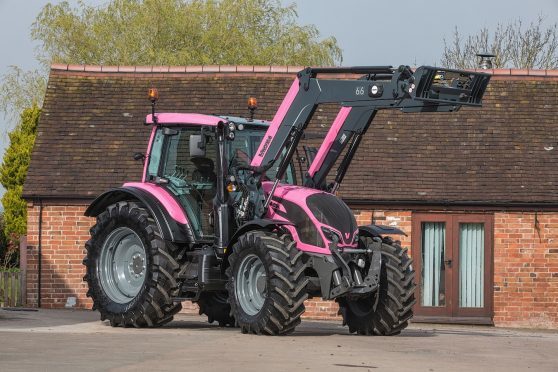 A bright pink tractor will travel around the agricultural show circuit later this year to raise funds for the Breast Cancer Care charity.
The customised Valtra Unlimited N Series tractor will visit 23 shows, including the Royal Highland Show, over the next five months.
Its journey starts on Monday at the North Somerset Show and concludes on October 1 at charity event Ruyton X1 Towns, which takes place between Shrewsbury and the Welsh border.
The 155hp N154 tractor has been produced in a striking pink finish at Valtra's Unlimited Studio facility in Suolahti, Finland.
Valtra's advertising sales and promotions manager, Richard Miller, said he hoped heads would be turned and pockets emptied once people see the tractor.
"We took the view that using a Valtra Unlimited in pink livery would boost the attention we are trying to attract to Breast Cancer Care and the amazing work that it does around the country," said Mr Miller.
"Each day, more than 140 women in the UK are diagnosed with breast cancer, a figure that currently multiplies up to 50,000 annually. But it is predicted that, along current trends, the yearly total is likely to have reached 57,000 by 2030. Hence the need for as much positive fundraising activity as possible."
Donations to Valtra's fundraising drive can be made online at www.justgiving.com/ValtraPinkTractor.
Mr Miller said the company planned to auction off the tractor at the end of its nationwide tour and donate the proceeds to the charity.
"When your local show or event comes around, make sure you seek out the pink Valtra," he added.