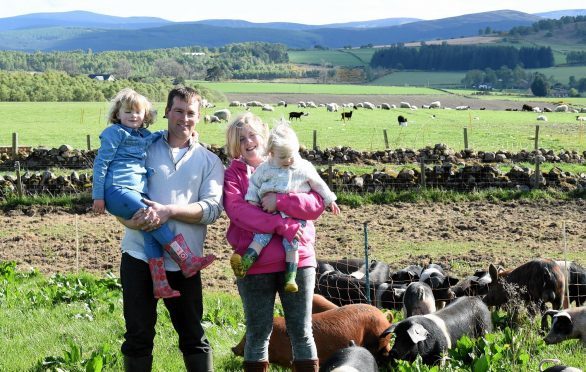 A young farming couple from the north-east has branched out into retailing and catering in a bid to diversify their business and boost cash flow on the farm.
Louise Urquhart is not your typical mum of two.
It would seem she is truly the master of juggling and her out of office reply on her email sums this up well.
It reads: "I may be out in the field looking after the animals, or chasing after my two little children, or trying to keep my husband right. One thing for sure is that life is never dull on the farm and I will get back to you as soon as I get a minute."
As well as being mum to Rose, 4, and 23-month-old Isla, she farms in partnership with her husband Ahren, works part-time at a local veterinary practice and runs a growing food business.
Launched last year, Louise's Farm Kitchen sells a range of home-reared pork products and lamb and mutton when available. It also provides catering for events with hogg and lamb spit roasts, as well as the rental of hogg roast equipment.
The family, and Louise's food business, are based at Ahren's family farm at Milton of Auchinhove, near Banchory.
The couple entered into a farming partnership of their own in 2013 when they took on seasonal ground totalling around 250 acres at Maryfield Farm, Dess, Aboyne.
They run a flock of 660 breeding ewes, which are predominantly Scotch Mules and Cheviots, and Louise also runs a small pedigree herd of Simmental cattle which are kept at her parent's farm.
The business is not eligible for any subsidies and the couple are determined to farm profitably without financial support.
Up until a few months ago, they were involved in Quality Meat Scotland's grazing groups programme welcoming other farmers onto their farm to share and learn best practice surrounding grassland management.
"We used to be livestock farmers but now we are grass farmers," said Mrs Urquhart.
She said being involved in the grazing group project had made the couple focus more on different grazing methods, including rotational and paddock grazing.
Her husband Ahren said: "The basis is learning when to put the stock on and when to take the stock off. We have come a long way in terms of how we farm. It's now about looking at how many kg per hectare we produce. It's more difficult but there's potential to carry a lot more stock."
He said he now planned to introduce the principles to his parent's farm, which carries approximately 100 suckler cows and 350 breeding ewes.
The couple say the food business offers a great opportunity to diversify their farming enterprise and bring extra income into the farm.
Mrs Urquhart said it all started on her 30th birthday.
"For my birthday we finished some pigs and did a hogg roast. We then got a couple of sows about two years ago and started doing meat boxes to family and friends. It has grown from there," she said.
"The driving force behind it is to have some cash flow. We don't get any subsidy from the ground we are farming."
She said since its launch the business has steadily grown on the back of demand for local meat.
The majority of pigs are born and reared on the farm and the couple's outdoor-reared pig herd has grown to seven Saddleback sows and a Mangalista boar.
The pigs are sent to Millers of Speyside in Grantown-on-Spey for slaughter and butchered by a local butcher before coming back to the farm to be sold in the form of various cuts including sausages, rolled shoulders, mince, chops and fillets.
In addition to mail order, the Urquharts run a monthly pop-up shop from their farmhouse kitchen.
Mrs Urquhart said this had proved extremely popular.
The couple has also started attending the newly launched Thistle Street Food Market in Aberdeen, and they are set to make their first appearance at Taste of Grampian on June 3.
Mrs Urquhart said: "The business combines my two passions – farming and food. It's a lot of work but we both enjoy it. Our focus is to have a high welfare local product."
On plans for the future, Mr Urquhart said the couple planned to keep growing the number of pigs it finished – this is set to be around 75 this year.
"We want to keep it so we are rearing and finishing everything. We also want to push the lamb and mutton a bit more," he added.
The couple can be contacted by email at louisefarmkitchen@gmail.com.
Louise's Farm Kitchen is one of a range of food, drink and tourism businesses being showcased at this year's Royal Highland Show.
Produce from the Urquhart family's business will be displayed at an Aberdeenshire pop-up farm shop at the show.
The shop forms part of an initiative to promote the north-east to visitors to the show.
Show organisers, the Royal Highland and Agricultural Society of Scotland (RHASS), have selected the Aberdeen region to lead its presidential team.
Lord Aberdeen of Haddo Estate has been appointed president.
Together with the help of other RHASS directors from the region, the team is planning to promote the food, drink and tourism industries of the north-east to visitors to the show.
As part of this plan a collective farm shop will form part of an 'Aberdeenshire village' exhibit at the show, which takes place on June 22-25.