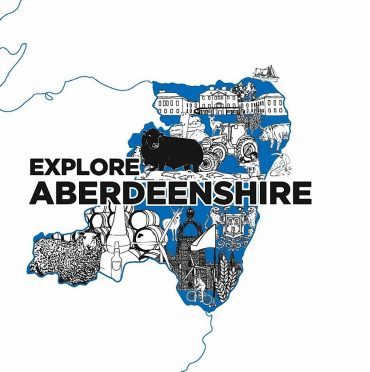 A new logo to promote Aberdeenshire's food, drink, tourism and agriculture sectors at this month's Royal Highland Show has been unveiled.
The Explore Aberdeenshire logo will be emblazoned on flags, banners and posters throughout the show as part of a drive to promote the region.
Featuring pictures of various sectors, including farming, fishing, golf and whisky, the logo has been created as part of the show's president's initiative.
Each year show organisers – the Royal Highland and Agricultural Society of Scotland (RHASS) – selects a region within Scotland to lead its presidential team.
And each year the presidential team is tasked with overseeing an initiative at the Highland Show, which takes place on June 22-25.
Lord Aberdeen of Haddo Estate has been elected president along with a team of four vice-presidents from the region.
These are: Jim Brown, of Holmfield, Fettercairn; Neil Godsman, of Auchlee Farms, Longside, Peterhead; Sir Moir Lockhead, of Glassel Farms, Torphins, and Alastair Macphie, Glenbervie Estate and Farm.
Together with the society's regional directors, the team launched an initiative to help promote the food, drink and tourism industries from the north-east to visitors attending the show.
Initiative organiser Sarah Mackie said the main focus at the show would be the creation of an 'Aberdeenshire Village' at the event.
In addition, the newly created Explore Aberdeenshire logo will be featured across the show.
Ms Mackie said exhibitors from the region, whether they be in the cattle and sheep lines or in the food section, will be given a flag or banner to display on their stand.
"The aim of the logo on the flag is to highlight around the showground that there is an Aberdeenshire Village and that it's worth visiting," she added.
"And by having all these different images on the flags, it's kind of summarising the range and diversity of what there is in Aberdeenshire."
She said the flags were being available to exhibitors from the region thanks to sponsorship from north-east ice cream maker Mackies.
* Read more about the Aberdeenshire Village at the show in next week's Press and Journal