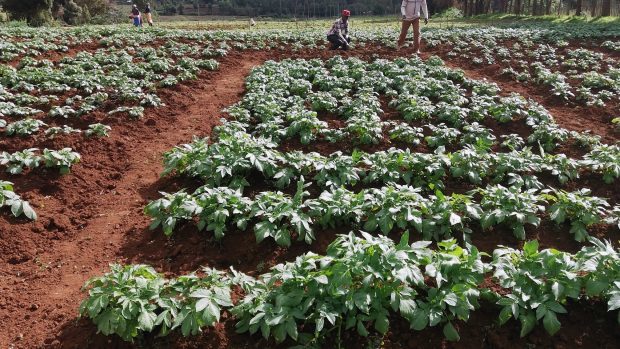 Scottish seed potatoes will start being exported to Kenya commercially from early next year, according to AHDB.
The levy body has been working with Science and Advice for Scottish Agriculture (SASA) to open the Kenyan market to GB seed potatoes following the signing of a bilateral agreement between the Scottish and Kenyan Governments late last year.
The two organisations have been working to transport, test and plant seed on Kenyan farms – the seed tatties have passed initial lab tests and are now said to be growing well in three locations.
"Before commercial growers can access the market trial seed needs to be tested and grown over two seasons in at least three geographical locations in Kenya," said AHDB's head of crops export market development Rob Burns.
"Fortunately in Kenya there are two growing seasons annually so we hope to reach the end of this process, and open up the market fully, by early 2018."
He said potatoes were the second most important food crop in Kenya, after maize, with up to 3million tonnes grown each year.
"The real opportunity in Kenya is in the burgeoning middle class; there is a growing market for premium potato-based products such as crisps and chips, and for these they need the high quality seed for which we are renowned," added Mr Burns.
Ten varieties have been provided by the James Hutton Institute for trials in Kenya including four free varieties – Hermes, Atlantic, Cara and Russet Burbank – and six commercial varieties.
SASA's export liaison officer, Jackie Gibson, said: "We sent over 1,200 tubers per variety, 400 of which underwent laboratory testing for soft rots; they passed with flying colours. The Syngenta Foundation have been a great partner, helping us identify farms to work with, and 400 tubers per variety were planted on three farms in late April/early May. The final 400 are in cold storage and will be planted out in the second season in October."
The crops will be inspected by Kenyan Government officials as the season progresses with a final inspection scheduled to take place after harvest.
Any variety which makes it successfully through the two seasons will be added to Kenya's national list, meaning it can then be imported from British growers.