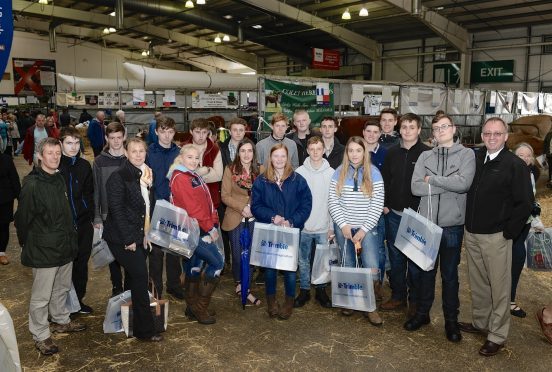 A group of 16 youngsters paid visit to the cattle lines at the Royal Highland Show in Edinburgh yesterday as part of machinery ring Ringlink's internship programme.
The programme, which is now in its fifth year, sets out to provide young people with a broad overview of work in the rural sector through a programme of training and mentoring.
Successful applicants are given up to £1,500 of training throughout the programme including a three-week induction period at SRUC's Craibstone campus in Aberdeen, followed by 26 weeks of full-time employment with a mentor.
The latest batch of youngsters started their training at Craibstone on Monday and yesterday's visit to the Royal Highland Show aimed to give them an insight into all the different parts of the sector.
Ringlink's marketing and development manager Gail Robertson, who runs the scheme, said: "Following the induction period the interns will commence work placements with Mmntor businesses throughout the north-east, Perthshire and Angus for a duration of 26 weeks."
The youngsters taking part in the scheme are: Nicolas Davidson, 16; Kate Sellar, 16; Owen MacKintosh, 17; Kirsty Gray, 16; Murray Reid, 16; William King, 16; Joe Avis, 16; Robert Auchnie, 17; Niko Jasieniecki, 16; Murray Bell, 16; Ruari Wild-Wood, 18; Megan Thom, 16; Shaun Buckle, 16; Lewis Peters, 17; Aidan Yule, 16; Blair Robertson, 16.