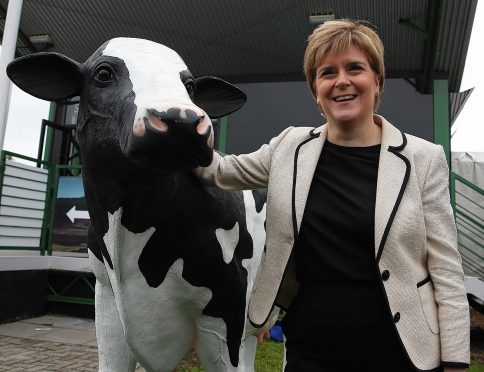 First Minister Nicola Sturgeon yesterday defended the Scottish Government's move to apply for an extension to the farm payments deadline and said she was sorry for the failures of the payments IT system.
Speaking at the Royal Highland Show in Edinburgh a day after it emerged Government had asked the European Commission to extend the payments deadline beyond June 30, Ms Sturgeon said this was a "contingency plan".
"We are making significant progress on payments and resolving the remaining issues in the IT system. I want to assure you today that there's no complacency on the government's part," said Ms Sturgeon, speaking at a business breakfast organised by Bidwells and law firm Shepherd and Wedderburn.
"We have already apologised and we do so today to farmers for the failures of this system."
She said the move to apply for a deadline extension did not detract from efforts to meet the deadline of next Friday.
"I don't want any sense that we have taken the foot off the pedal," added Ms Sturgeon.
"We are 100% focused on making payments by the deadline next week."
Last week Audit Scotland released a report into the beleaguered system, which warned Government was at risk of fines of up to £60million from the EU if it failed to deliver all payments.
To avoid fines Government must pay out 95.24% of all subsidy monies by the June 30 deadline.
The total 100% value cannot be determined until all monies have been issued, so the European Commission takes the payment figure for the deadline date as 100%.
It then grants further payments worth 5% of that value beyond the June 30 deadline. Any percentage more than this will incur fines.
Rural Economy Secretary Fergus Ewing yesterday confirmed that just under three in four applicants for 2016 direct subsidy support payments, or 73%, had received their payments so far.
The payments made to these farmers and crofters totalled 293million euros (£258million), added Mr Ewing.
He said: "We are making substantial progress. We have a plan to make payments over the course of the week. We have an excellent team who have got this issue by the scruff of the neck."