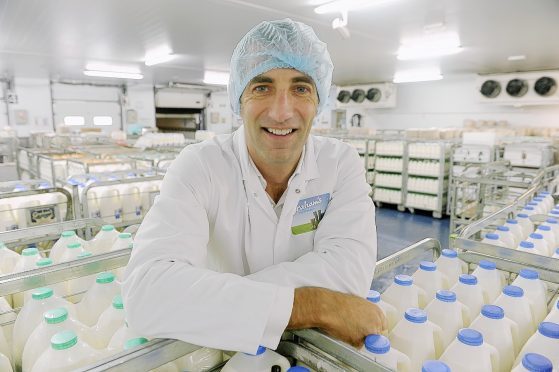 The chief of Scotland's largest independent dairy company has called for a boost in domestic production ahead of Brexit.
Robert Graham from Graham's the Family Dairy says the Scottish dairy industry needs to "think big" in response to the economic uncertainty of Brexit.
Mr Graham, who is managing director of the Scots dairy firm, said growth in the Scottish dairy industry would benefit the whole country through increased job drivers, stronger international trading relationships and economic resilience.
"Dairy is perfectly positioned to support job creation at a global scale. In doing so, the sector can grow Scotland's GDP, forge career pathways and support education programmes," said Mr Graham.
He pointed out the contrasts between food and drink exports and dairy imports – last year Scottish food and drink exports reached a record high of £5.5billion, however Britain remains the world's third largest net importer of dairy by value.
Mr Graham said approximately 90% of all spreadable butter and yoghurt sold in Scotland was not produced in Scotland.
"It's never been more important than now for Scotland to play to its strengths and think big. We need to grow Scotland's domestic production capacity now, to develop and sell more home-grown products and support businesses," he added.
"Increasing Scotland's domestic processing capacity will be the pipeline for developing new products, boosting innovation, delivering inclusive skills development and improving Scotland's export. All are central to building a resilient post-Brexit economy."
Mr Graham's comments come at a time when Graham's the Family Dairy is seeking approval to build a new national dairy production, research and education facility in Stirling. The facility is expected to cost £20million to create.
He said the development, which is dependent on a housing scheme with Mactaggart and Mickel Homes being approved, would deliver much-needed housing and facilities for the local area.
Graham's has sites at Bridge of Allan, Nairn and Glenfield in Fife.