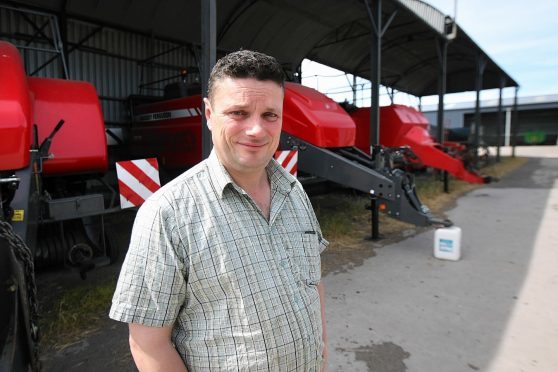 In modern day agriculture it's rare to find an average size or scale farm enterprise capable of comfortably supporting more than one family.
More often than not, younger generations leave the farm in search of a supplementary income, or establish some form of agricultural diversification.
In the case of the Hodnett family, of Balmydown Farm, on the outskirts of Dundee, ultimately and simultaneously both came into play.
When the family – father Michael, mother Angela, son Alistair and daughter Liz – originally moved north from the Welsh borders in 1990, Balmydown, by Strathmartine, was little more than an uninhabited shell.
"The land was in cracking order, though, so we knew the basis for the farm was good – we just had a big job on our hands to make the house, cottages and steading serviceable for modern day living and agriculture," said Alistair.
To supplement his own income and to meet people from the local area, he initially began working as a part-time milk recorder covering Angus and Perthshire before quickly progressing in that role to become Scottish manager.
"The extensive travel eventually became too much, though, particularly when I met my wife Mandy, so I took up a job much closer to home working for a firm that traded in agricultural commodities," Alistair added.
At the same time Michael had established and grown a mixed farming and equestrian livery enterprise at Balmydown, with a burgeoning livestock element of 240 commercial Lleyn ewes, home-bred to Texel tups from the McGowans at Incheoch, alongside the arable production of wheat and barley.
"By 2011 it became clear I needed to spend more of my time running the farm alongside my father, so the idea to establish my own farm-based business was born," added Alistair.
And, last Christmas eve, the now "well-kent" local agricultural merchant firm of Hodnett (Scotland) celebrated five successful years trading.
From his head-office – a portacabin within the old Balmydown steading – Alistair trades in grain, feeds, fertilisers and straw, largely utilising contacts built over his early years in Scotland, in tandem with working on the farm.
Hodnett (Scotland) carries out some contract baling but otherwise mostly concentrates upon buying straw in the bout, around half of which is loaded and hauled off farms at harvest time and stored in various sheds around Angus.
The business buys in straw from around 12,000 acres of Scottish farms, stretching between Perthshire and St Cyrus.
"It's really been a very natural progression, but the business allows me the freedom to continue working on the farm with dad, while also supporting my own family," said Alistair.
"The years of contacts, and indeed trust, that I built up in my early years has stood me in really good stead, but I wasn't prepared for the amount of completely new business I picked up after I initially launched the company. I think a lot of people in the local farming community wanted to support me, while others perhaps felt they could give a 'young' lad a helping hand."
Alistair added: "I regard all my customers and suppliers as friends too and even when deals occasionally go wrong, friendships show through and relationships remains intact and I don't know many other industries like that."
The busy merchant business flows alongside the agricultural calendar, with feed, straw and fertiliser the focus of early winter and spring months, moving into stock feed and potatoes by the early summer, buying in straw and baling during July and August and a chance to catch up post-harvest before the cycle starts all over.
"It doesn't stop, but we now also have one full-time farm worker, Ian, working alongside dad, while Mandy supports me in the office. We also have four seasonal workers that come on board during harvest," said Alistair.
"I'm always very mindful of the farm, though – and having the family behind me – as Balmydown provided not only a home, but a capital asset to borrow money against to establish the trading business in the first place.
"Any surplus money from Hodnett Scotland is always reinvested into the farming business, building for all our futures."
As with farming, there's good times and bad and the company has had to weather plentiful and poor harvests, global market forces, mechanical fires and even customer bankruptcies. "But I've never yet looked back," added Alistair.
With Brexit looming and pressure mounting in terms of the availability of supplies to the livestock sector – as swathes of farmers are ditching combines in favour of foragers to supply the likes of rye to the energy sector – Alistair predicts there will be challenging times ahead.
"Agriculture is constantly evolving, but it's a great industry to be involved in with some really great people. I count myself very lucky to run the business from the farm – it really does give me the best of both worlds."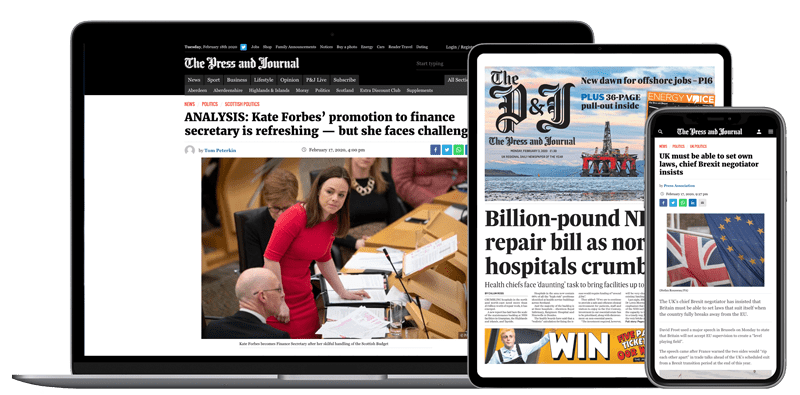 Help support quality local journalism … become a digital subscriber to The Press and Journal
For as little as £5.99 a month you can access all of our content, including Premium articles.
Subscribe