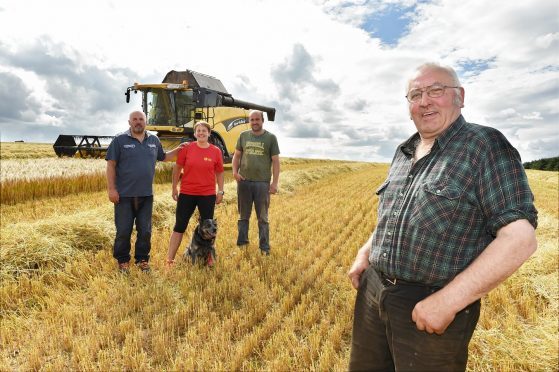 Harvest 2017 kicked off super early for one Aberdeenshire farmer earlier this week.
William Faith, who farms at Peattie Farm near Inverbervie with his sons Richard and Robert, starting cutting Glacier winter barley on Wednesday July 12.
He said it was the earliest harvest he had ever witnessed at the farm and said he had never cut barley in July before.
The grain, which will be crimped for feeding to the farm's 170 suckler cows, was yielding between 3.75 and 4 tonnes per acre with a moisture content of between 25% and 30%.
In total the family grows 500 acres of cereals; cropping includes winter and spring barley, wheat, oats and fodder beet.
The farm's combine mechanic – Liam Wylie of AL Agri – said this was the earliest he had ever been out to sort a combine.
"The earliest I have sorted a combine before was July 20. This is a good seven to 10 days early," said Mr Wylie.
Meanwhile, the prospects for harvest across other parts of Scotland are mixed – some farmers are set to get their combines out early, while others expect to start harvest at a similar time to last year.
A farmer in Perthshire is understood to have started cutting ripe winter barley on Thursday.
In the north, Jim Whiteford, who farms with his brothers near Tain in Easter Ross, said he was two weeks away from cutting winter barley.
He said: "It's about five days earlier than last year. The crops are looking really good; I'm very pleased with them."
The family grows 700 acres of crops including winter barley, oilseed rape, and spring barley.
In Moray, Martin Birse who is farms manager at Pitgaveny Farms, near Elgin, said harvest was set to start at a similar date to last year.
Mr Birse said winter barley, which forms part of the farm's 1,500 acre cereals enterprise, was due for harvest in around two weeks' time.
He said: "Most of the crops are looking quite well. There's strong demand for the malting barley and in some quarters they say the spot price might be a good price this year, above contract prices."
Fellow Moray farmer Iain Green of Corskie Farm, near Fochabers, is set to start harvest in seven to 10 days' time – around five days earlier than last year.
Mr Green, whose farm is the Moray monitor farm in the Monitor Farms Scotland programme, grows 1,740 of cereals on his 3,000-acre mixed farm.
He said: "It looked as though it was going to be an early harvest but it's just slowed down. Crops look full of potential."
Andrew Moir who farms at Mains of Thornton, near Laurencekirk, said harvest would start at a similar time to last year at either the end of this month or the start of August.
He said crops in Aberdeenshire were looking well and swathers had been out in fields of oilseed rape in the region. He reported some issues with blind sight in barley.
Further south at The Laws Farm, just north of Dundee, Graham Mackie said he was set to start harvesting Cassata winter barley in around 10 days' time.
He said this was around a week earlier than normal at the mixed beef and arable farm, which carries 800 acres of cropping including 120 acres of potatoes.
AHDB Cereals and Oilseeds knowledge exchange manager, Gavin Dick, said he predicted a sharp start to harvest but not anything dramatically early.
He said: "Many growers are still spraying off and that means they can't combine for another two weeks so I don't think we'll see any significant bulk of crop cut until the end of July. It's a bit earlier than usual, but not likely to be exceptional."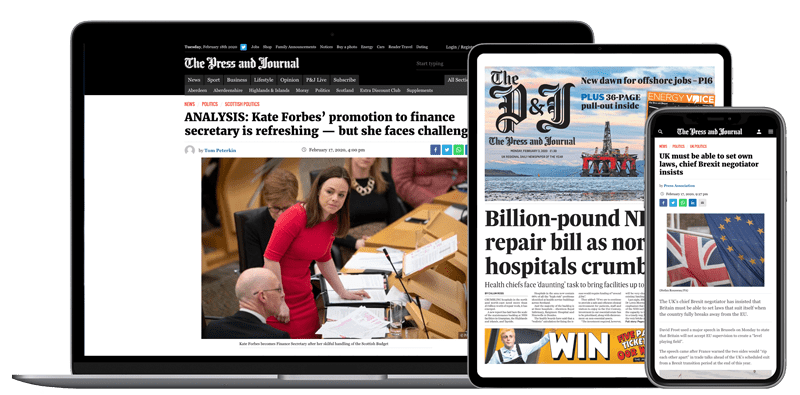 Help support quality local journalism … become a digital subscriber to The Press and Journal
For as little as £5.99 a month you can access all of our content, including Premium articles.
Subscribe