Harvest 2017 has started in earnest across parts of the north and north-east of Scotland.
Last week the Press and Journal reported that William Faith was cutting winter barley super early at Peattie Farm near Inverbervie.
Mr Faith, who farms with his sons Richard and Robert, was cutting Glacier winter barley to feed to the farm's 170 suckler cows.
Destined for crimping, the barley was yielding between 3.75 and 4 tonnes per acre with a moisture content of between 25% and 30%.
Mr Faith said this was the earliest he had ever had his combine out.
This week, combines started rolling in the Highland region, with harvest coming earlier than normal for some.
Ali Martin, of W.W. Martin and Son, started harvesting Orwell winter barley on Tuesday July 18.
The two fields at Gilchrist Farm, Muir of Ord, were being cut for bruising for livestock feed. They will be used as feed in Mr Martin's livestock enterprise, which comprises approximately 500 head of finishing cattle every year.
"This is probably the earliest we have started harvest. It's definitely 10 days earlier than normal," said Mr Martin.
He said the 20-acre block of Orwell, across the two fields, was yielding 3.5 tonnes per acre with a moisture content of around 16%.
The two fields were being cut to way make for car parking at next month's Black Isle Show, which takes place on the evening of Wednesday August 2 and all day on Thursday, August 3.
Mr Martin said in previous years the fields had only been harvested in the days prior to the show in the first week of August.
The farm's team was using a New Holland CR 9070 combine to cut the barley. It is one of two combines run under Highland Land Management – a contracting business run by his family firm W.W. Martin and Sons and Foulis Farms Ltd.
Mr Martin said the two family businesses were growing around 2,100 acres of predominantly spring barley, with all crops destined for marketing through farmers' co-operative Highland Grain. He said he expected spring barley harvest to start a week earlier than normal in around three to four weeks' time.
In Moray, Iain Green who farms with family at Corskie, Fochabers, started winter barley harvest on Tuesday.
Mr Green, whose farm is the Moray monitor farm in the Monitor Farms Scotland programme, cut 76 acres of winter barley, using the farm's two combines, on Tuesday. Bazooka yielded 3.23tonnes per acre, Meridian gave 3.47 tonnes to the acre, and Fletcher gave 3.62 tonnes per acre.
Mr Green hailed a good start to harvest as none of the crops needed drying thanks to moisture levels of 15.4% and below. The grain is for use as feed on the farm's 400-sow indoor pig unit.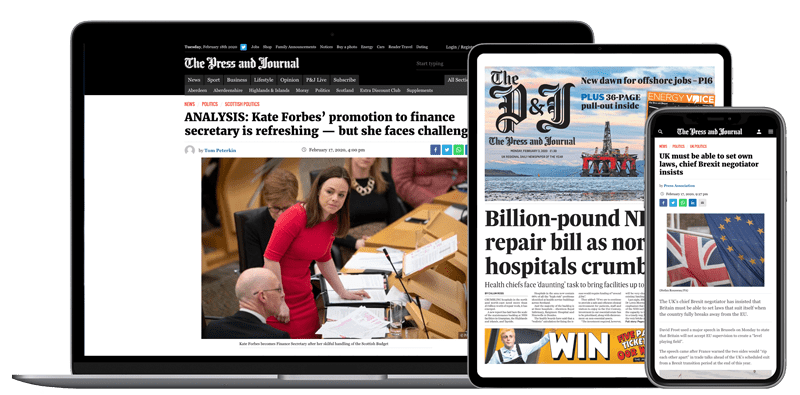 Help support quality local journalism … become a digital subscriber to The Press and Journal
For as little as £5.99 a month you can access all of our content, including Premium articles.
Subscribe