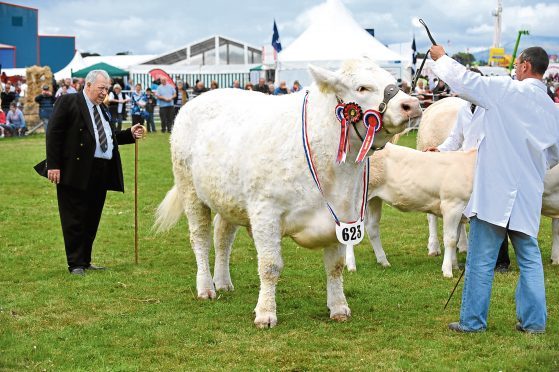 Charolais cattle will take centre stage at next week's Black Isle Show.
Show secretary Rod Mackenzie said the event, which takes place on the evening of Wednesday August 2 and during the day of Thursday August 3, would feature a special focus on the continental cattle breed.
Although it is not an official show organised by the British Charolais Cattle Society, breeders from across Scotland are set to attend to showcase their beasts.
Mr Mackenzie said the idea for the show follows the success of various national shows of cattle at the Black Isle in recent years including a special contest for Simmentals last year and one for Highland cattle the year before.
He said: "The Charolais breed show will take pride of place in the main shed."
The judge is former breed society president David Benson and prize money has been doubled for the section.
Mr Mackenzie said cattle entries were back a little on last year at around 300, while sheep entries were at a similar level to previous years at just over 1,100.
He said the Any Other Breed sheep section would be extended this year to include both accredited and non-accredited sheep.
The equine section will feature classes Shetland, Highland and Clydesdales as well as a showjumping competition on the preview evening on Wednesday.
Mr Mackenzie said the preview evening would also feature a new Ferguson tractor pulling competition. He said entries for teams of five must be submitted by tomorrow night.
"There's a £1,000 prize pot," he added.
This year's show will also feature a new heritage area to coincide with 2017 being the year of history, heritage and archaeology.
"We are going to have mainly family oriented attractions.There will be livestock including four breeds of sheep, goats, Highland cattle, some pigs, alpacas, and a farrier to shoe some Highland Ponies." said Mr Mackenzie
He said vintage tractors and machinery would also be on display, including an old threshing mill being run by a Field Marshall tractor and a quarter-scale steam engine.
The main ring attraction for next week's show is the Backdraft Wheelie Fire Engine.
Judges include Orkney cattle breeder Terry Coghill, of Muce, Birsay for the beef interbreed and former National Sheep Association chairman John Geldard from Kendal, Cumbria, for the sheep.